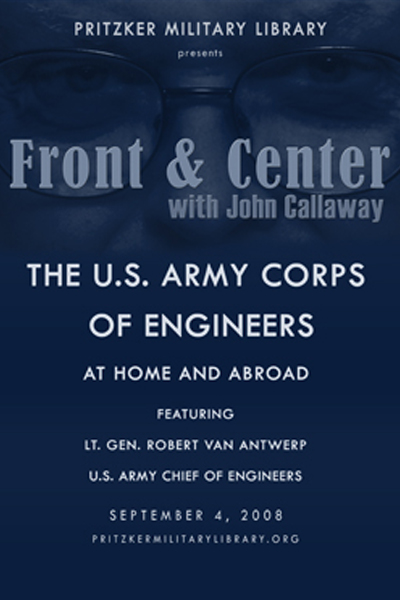 Record date:
Front & Center with John Callaway: U.S. Army Corps of Engineers: At Home and Abroad
Their missions range from the deserts of Iraq to the wetlands of the United States, involving construction support in war zones and protection for our water supply at home. Who are the U.S. Army Corps of Engineers? Where do they fit into our strategy overseas, and how are they responding to domestic issues like recent hurricanes and floods? John Callaway presents a special interview with Lt. Gen. Robert Van Antwerp, U.S. Army Chief of Engineers on this episode of Front & Center with John Callaway.
On May 18, 2007, Lieutenant General Robert L. Van Antwerp became the U.S. Army Chief of Engineers and Commanding General of the U.S Army Corps Engineers (USACE). Lt. Gen. Van Antwerp serves as the senior military officer overseeing most of the Nation's civil works infrastructure and military construction.
As the USACE Commanding General, Lt. Gen. Van Antwerp is responsible for approximately 33,000 Civilian and 600 military employees, who provide project management and construction support to 250 Army and Air Force installations in nearly 100 countries around the world. The Corps has a key role in support to the Global War on Terror with thousands of Corps Civilians and Soldiers deployed to support reconstruction in Iraq and Afghanistan. USACE is also responsible for hundreds of environmental protection projects and for overseeing the regulatory permit program to protect, restore, and enhance thousands of acres of wetlands. In addition, the Corps has an emergency response mission to support the Federal Emergency Management Agency in restoration and repair after a disaster, whether natural or manmade.
Lt. Gen. Van Antwerp took command of USACE after serving most recently as Commanding General, U.S. Army Accessions Command, responsible for recruiting and training thousands. Other command assignments include the U.S. Army Maneuver Support Center and Fort Leonard Wood; Commandant, U.S. Army Engineer School; U.S. Army Corps of Engineers, Los Angeles District during the Northridge Earthquake of 1994; the U.S. Army Division, South Atlantic, Atlanta, Georgia; and the 326th Engineer Battalion, 101st Airborne Division (Air Assault) during Operation Desert Shield and Desert Storm in Saudi Arabia and Iraq.
A graduate of the U.S. Military Academy at West Point in 1972, Lt. Gen. Van Antwerp completed Ranger, Airborne and Air Assault training, and both the Engineer Officer Basic and Advanced Courses. He holds a Master of Science degree in Mechanical Engineering from the University of Michigan and a Master of Business Administration degree from Long Island University in New York. He is a Registered Professional Engineer.