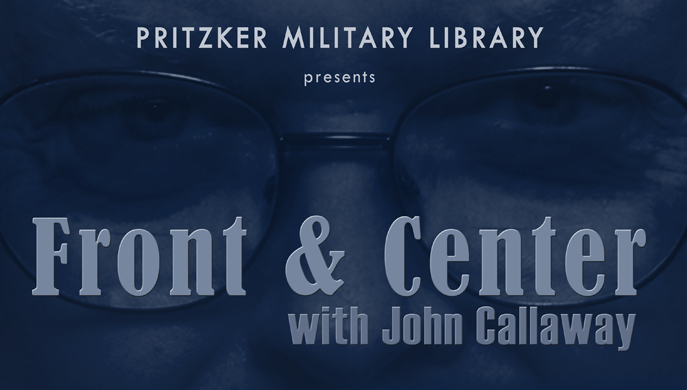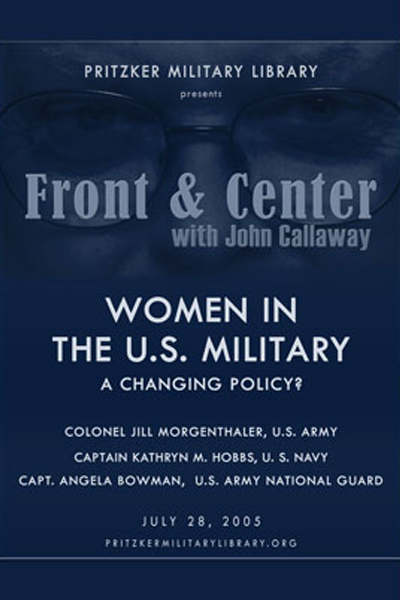 Record date:
Front & Center with John Callaway: Women in the U.S. Military: A Changing Role?
As the war in Iraq continued in 2005, death and casualty figures included increasing numbers of women. Although women were technically not assigned to combat, the lack of a front line in Iraq put female soldiers at a risk similar to their male counterparts. John Callaway and his guests explored how the role of women has evolved in today's military.
Colonel Jill Morgenthaler, U.S. Army, served in Operation Iraqi Freedom as head of public affairs for the U.S.-led military coalition from February until September of 2004. She dealt with international media on a daily basis for eight months, answering questions ranging from the insurgency to the Abu Gharib prisoner abuse scandal. She was the lead public affairs officer for Abu Gharib. Morgenthaler began her Army career when she entered ROTC at Penn State University during the experimental program of integrating of women with men in training. She was one of 10 women receiving full scholarships at Penn State University. Morgenthaler served five years of active duty as a military intelligence officer in Korea and Germany. She entered the Reserves and has served in Psychological Operations, Civil Affairs and Public Affairs. Her overseas tours include Thailand, Egypt, Bosnia and Iraq. She has commanded two military intelligence companies and a public affairs battalion. At the time of this recording, she was the Director for Strategic Leadership Training, where she is responsible for recommending to the Reserves and Training Doctrine Command the training needed to produce strategic thinkers and leaders.
Captain Kathryn M. Hobbs, USN, joined the U.S. Navy after high school and was one of the first women to complete Signalman "A" School. Stationed at NSA, Treasure Island, San Francisco, CA she was the first Navy woman Alcohol and Drug Counselor stationed at a Navy Brig. During this tour, she earned a BA from Columbia College. Completing Officer Candidate School in Newport, RI, she became the first Navy woman to serve as an Officer-in-Charge, of a U.S. Navy Brig. She completed a Masters degree in Education/Counseling from Seattle University, Seattle, WA. Following a series of assignments at the Fleet Logistics Support Squadron in San Diego, CA, Hobbs was an Adjunct Professor/NROTC Instructor at the NROTC Unit, University of San Diego/San Diego State University and was named 1989 NROTC Instructor of the Year. She earned an MS degree in National Strategic Resources at the Industrial College of the Armed Forces (ICAF), National Defense University (NDU), Fort McNair, Washington DC. Recent assignments include Commanding Officer, Navy Recruiting District, New Orleans and Chief of Staff for Navy Region Europe. In August 2003, Hobbs assumed duties as Commanding Officer, Naval Station, Great Lakes, and Chief of Staff, Navy Region Midwest. Hobbs has: Legion of Merit (two), Meritorious Service Medals (four); Navy Commendation Medals (four); Navy Achievement Medal; Meritorious Unit Commendation Medal; Navy Unit Commendation Medals (two); and other ribbons/awards.
Capt. Angela Bowman, U.S. Army National Guard, served in support of Operation Iraqi Freedom from January 2004 to January 2005 as the Executive Officer/Operations Officer for the 139 Mobile Public Affairs Detachment as well as the Deputy Public Affairs Officer for Task Force Olympia, stationed in Mosul, Iraq. The MPAD was responsible for supporting the TFO commander's information operations and public affairs objectives that included information dissemination to local, national and international media outlets. Bowman was responsible for developing and implementing missions and operations for MPAD soldiers throughout the combatant area of responsibility. Capt. Bowman has served in the Illinois National Guard for 12 years and was commissioned in 1995 after completing Officer Candidate School. She has served as a maintenance company platoon leader, and commander of the 623rd Personnel Services Detachment. At the time of this recording, she was assigned as the commander of the 139 MPAD based in Springfield, Illinois. She is employed as the Chief Executive Officer of the Illinois Alcoholism and Drug Dependence Association, a statewide trade association that advocates for sound public policy for substance abuse prevention, treatment and recovery. She has a BA degree in mass communication/journalism from Northeast Missouri State University and is pursuing a master's in political science at the University of Illinois-Springfield.