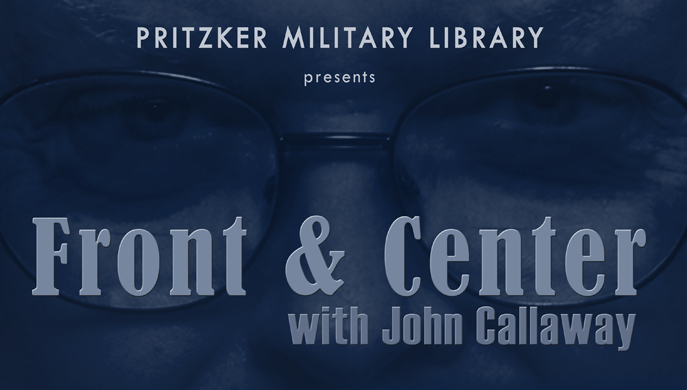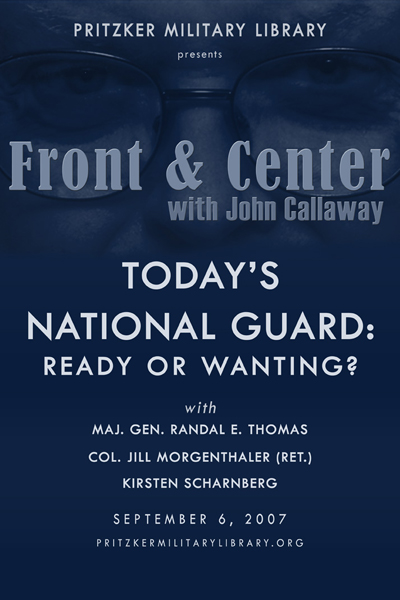 Record date:
Front & Center with John Callaway: Today's National Guard: Ready or Wanting?
Whether it's extended deployment, inadequate equipment or returning veterans with serious medical problems, the National Guard has struggled with significant new challenges since the Iraq war began. John Callaway and his panel evaluate the health and readiness of today's National Guard on Front & Center.
Major General (IL) Randal E. Thomas was the 36th Adjutant General of the State of Illinois. He served as a member of the Governor's Cabinet, and was the Governor's principal advisor on military matters. Thomas directed the Illinois Department of Military Affairs, and he was the senior officer in the Chain-of-Command for both the Illinois Army and Air National Guard. He was responsible for the daily operations of the Illinois National Guard. Thomas served a total of three years on active duty, including one year in Vietnam with the 5th Special Forces Group, and three years in the U.S. Army Reserves. He joined the Illinois Army National Guard in 1983, and has commanded at the Infantry Company and Infantry Brigade, 35th Infantry Division, Decatur, Illinois. Prior to his appointment as the Adjutant General, General Thomas had completed 30 years as a secondary school educator in Illinois. He taught high school English for seven years and had been Hillsboro High School Librarian / Media Director for 23 years. General Thomas' numerous military awards and decorations include the Bronze Star Medal with "V" device for valor and the Purple Heart.
Thomas is a graduate of Southern Illinois University, Edwardsville, Illinois, where he earned a Bachelor of Science Degree in English in 1973, and a Master of Science Degree in Education in 1980. He also holds a Master of Strategic Studies Degree from the United States Army War College, Carlisle Pennsylvania, class of 2000, which is the highest military education level. His other principal military education courses include Airborne School, the Special Forces Qualification Course, and numerous qualifying branch courses.

As the Governor's Deputy Chief of Staff for Public Safety and Homeland Security Advisor, Colonel Jill Morgenthaler (Ret.) was responsible for directing Illinois homeland security operations for the state and coordinating efforts with federal agencies such as the FBI and Homeland Security and providing guidance to Illinois Emergency Management Agency, Illinois Terrorism Task Force, Illinois National Guard, and other agencies. As an Army officer with close to 30 years of experience, she has worked in command centers in Korea, Berlin, Bosnia, and Iraq; handled disaster recovery during the San Francisco earthquake of 1989 and evacuation operations for Kosovar refugees in New Jersey. As Argonne's Emergency Response Center manager, she supervised the center during incidents and exercises Col. Morgenthaler holds a Masters of Strategic Studies from the Army War College, a Masters of Arts in International Policy Studies from the Monterey Institute of International Studies, and a Bachelor of Arts from Pennsylvania State University.
Kirsten Scharnberg is a national correspondent for the Chicago Tribune. She is currently based in Kansas City for the paper, covering national politics, the presidential campaign, breaking news and the Midwest. She previously has been based in the paper's New York bureau and has worked extensively covering the war in Iraq. She was embedded during the initial invasion with an infantry battalion of the 101st Airborne Division and has returned to Iraq numerous times since. She has covered a wide range of military issues, including the readiness of the National Guard in the wake of the wars in Iraq and Afghanistan. Scharnberg came to the Tribune in 1999 from the Baltimore Sun. Before that she worked at The Des Moines Register. She is a 1997 graduate of the University of Iowa. Unexpectedly, she met her husband, an Army officer, while covering the war in Iraq. They have long since banned all conversation about war and national defense from the dinner table.