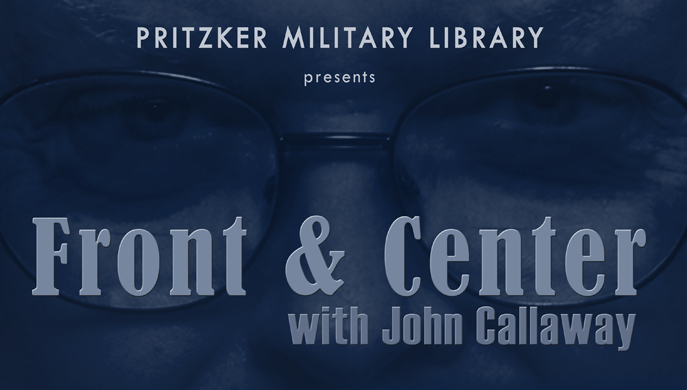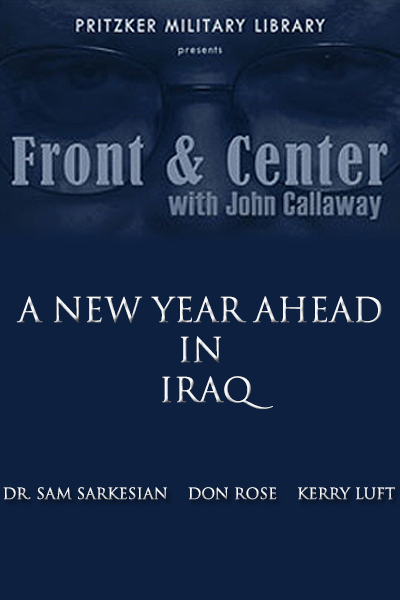 Record date:
Front & Center with John Callaway: A New Year Ahead in Iraq
With Iraq's first parliamentary election now history, the U.S. policy in Iraq continued to evolve in 2006. President Bush acknowledged the challenges America faced as pressures to reduce or withdraw U.S. Troops mounted. John Callaway and his panel of experts looked at the year ahead for U.S. involvement in Iraq.
Dr. Sam C. Sarkesian was Professor Emeritus, Political Science, Loyola University Chicago. He served as Chairman of the Academic Advisory Council of the National Strategy Forum and Chairman of the Inter-University Seminar on Armed Forces and Society (IUS) from 1980-1987. He was Chairman of the Department of Political Science, Loyola University Chicago from 1974-1980 and chaired the Research Committee on Armed Forces and Society of the International Political Science Association, 1980-1993. He taught at the United States Military Academy (West Point) from 1962-1966. He has published many books and articles on national security, unconventional conflicts, and military professionalism. Recent books include: U.S. NATIONAL SECURITY: Policymakers, Processes, and Politics, and The US Military Profession into the Twenty-First century. Sarkesian served for over 20 years as a regular army officer in the U.S. Army (including three years as an enlisted man). He served in both the Korean War and in the Vietnam War, retiring with the rank of Lieutenant Colonel. He received a BA from The Citadel and the MA and PhD from Columbia University.
Don Rose is an independent political consultant heading Don Rose Communications and The Urban Political Group. The firms offer campaign consulting and management services to candidates of both parties and independents, including Chicago Mayors Harold Washington and Jane Byrne, Illinois Senator Paul Simon, and Governor Jim Edgar. Rose has published widely on political and cultural affairs and contributed chapters to several books, including 20th Century Chicago: 100 years, 100 Voices; Sweet Home Chicago; The Making of the Mayor 1983 and Restoration: 1989. He has been an on-air commentator for WLS-TV (ABC), hosted a weekly community-affairs talk show for 22 years on WPNT-FM and was editor and co-publisher of the monthly Hyde Park-Kenwood Voices. During the 1960s he served as press secretary to Dr. Martin Luther King Jr. during his Chicago campaign and was later an organizer for the National Mobilization Committee to End the War in Vietnam. He is a founding member of Chicagoans Against the War in Iraq (now known as Chicagoans Against War and Injustice). Rose also has had a continuing ancillary career as a food and travel writer and comments frequently on jazz and the arts.
Richard C. Longworth is senior fellow at the Chicago Council on Foreign Relations. He joined the Council in 2003 as executive director of its Global Chicago Center after a career in journalism, most recently as senior correspondent for the Chicago Tribune. For 20 years, Longworth was a foreign correspondent for the Chicago Tribune and United Press International, and was the Tribune's Chief European Correspondent. He has reported from 75 countries on five continents. Longworth is the author of Global Squeeze, one of the first books on globalization, and of a MacArthur Foundation report, "Global Chicago," which led to the foundation of the Global Chicago Center. He is an adjunct professor in international relations at Northwestern University, was a visiting scholar at Northwestern's Medill School of Journalism and lectures regularly at Columbia University 's Graduate School of Journalism. Longworth is a graduate of Northwestern and won NU's Alumni Merit Award in 2000. He was a Nieman Fellow at Harvard, has won numerous awards for foreign and economic reporting.
Kerry Luft has been the Chicago Tribune's foreign editor since January 2004. In that capacity he oversees the work of 11 foreign correspondents deployed around the world, and the work of many of the Tribune's reporters on temporary assignments oversees. He was the lead rewrite person on the Tribune's coverage of the 2003 invasion of Iraq. He previously has served as national editor, sports editor for enterprise and suburban editor, among other positions. From 1994 to 1996 he was the Tribune's South America correspondent, and currently is an adjunct lecturer on global journalism at Northwestern University, his alma mater. He joined the Tribune as a college intern in 1985, and has won the paper's Beck award for foreign reporting and its Johnrae Earl award for excellence in editing.