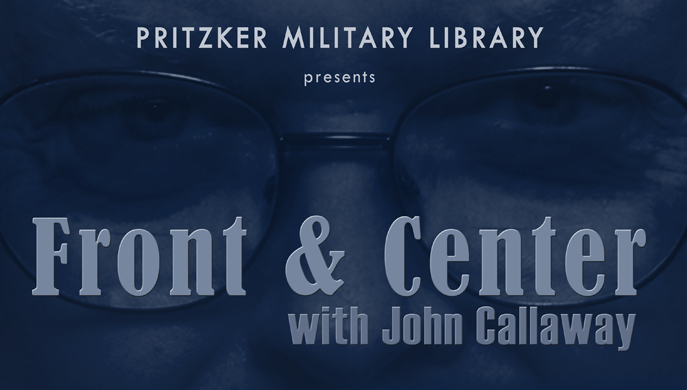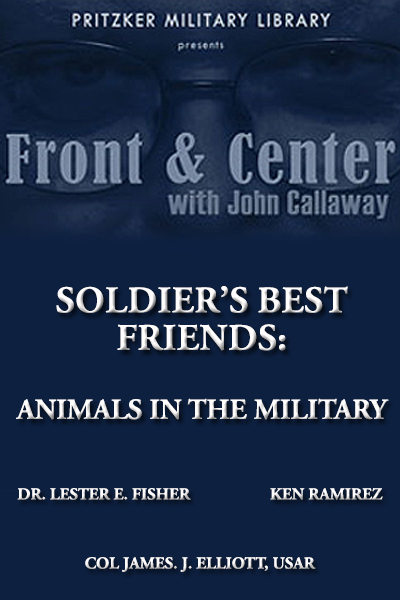 Record date:
Front & Center with John Callaway: Soldier's Best Friends: Animals in the Military
From Hannibal's elephants to Patton's passenger pigeons, animals have been an important component of military operations. Today, many animals both on land and at sea are integral to research and combat operations for our armed forces. John Callaway and his panel take an historic perspective on the integration of animals in warfare and an exploration of the issues surrounding the use of animals in the military today.
Dr. Lester E. Fisher was born and raised in Chicago. He is a graduate of the Veterinary College at Iowa State University and served as an officer in the Veterinary Corps of the US Army during World War II. After completing his military service, Fisher accepted a position overseeing the care of research animals at the Northwestern University Medical School. He volunteered his services to the Anti-Cruelty Society, Chicago's preeminent animal welfare organization, and became the part-time "zoo doctor" at Lincoln Park Zoo. He also established a veterinary practice that continues today. As the Director of the Lincoln Park Zoo in Chicago from 1962 to 1992, Fisher became a highly visible and popular figure on television and radio. His "Ark in the Park" segments on TV's highly-rated Ray Rayner Show continued for nearly 15 years. Well-known in international zoological circles, he is a member of leading professional organizations around the world. His memoirs, Dr. Fisher's Life on the Ark were published last summer.
Ken Ramirez is Vice-president for Marine Mammal Programs and Animal Training at the Shedd Aquarium where he develops and supervises animal care programs, staff training and development and public presentation programs for the marine mammal collection. He joined Shedd Aquarium in 1989. A 30-year veteran of marine mammal care and training, Ramirez served nine years at Marineworld of Texas. Previously he coordinated marine mammal care programs at Ocean Safari in South Padre Island, Texas. He began his training career working with guide dogs for the visually impaired and has maintained a close affiliation to pet training throughout his career, including a new pet training television series currently in development. He has also recent worked closely with several search and rescue dog organizations. Ramirez has been active in several professional organizations and has written for several scientific publications. He teaches a graduate course on animal training at Western Illinois University and has authored the book Animal Training: Successful Animal Management through Positive Reinforcement, published in 1999.
Col. James J. Elliott, USAR, DVM is Associate Director of the Department of Laboratory Animal Resources at the University of Texas, Health Sciences Center at San Antonio. Previous positions include Asst. Chief, Department of Veterinary Science, Chief, Animal Medicine Branch, U.S. Army Medical Department Center & School, Fort Sam Houston, Texas. He served as Chief, Biological Weapons Inspection Team United Nations Special Commission on Iraq in Baghdad, July-Oct 1999 and was Chief, Research Support Section, Armstrong Laboratory Brooks AFB, TX where he directed operations of the surgical facilities and animal colonies. He also was Veterinary Programs Manager, Clinical Investigations Regulatory Office, US Army Medical Department Center and School, Fort Sam Houston, TX. He previously held a series of veterinary positions at the United States Army Medical Research Institute of Infectious Diseases (USAMRIID), Fort Detrick, MD and was Officer in Charge, 106th Medical Detachment (VS) XB Hospital, Yongsan, Korea, where he was responsible for a full service deployable veterinary field hospital. Elliott is active in numerous professional associations and is widely published in professional journals. He received his B.S. in Animal Science and his D.V.M. from Colorado State University.