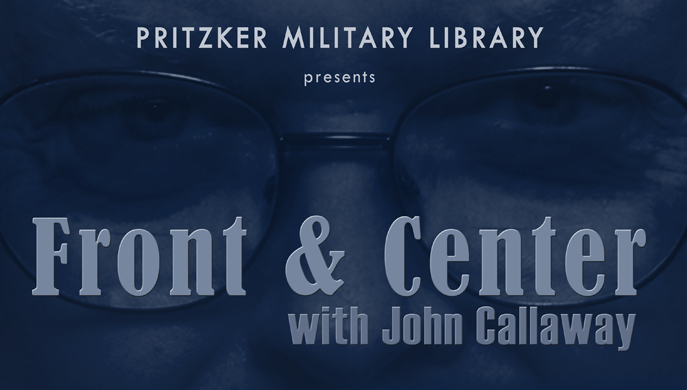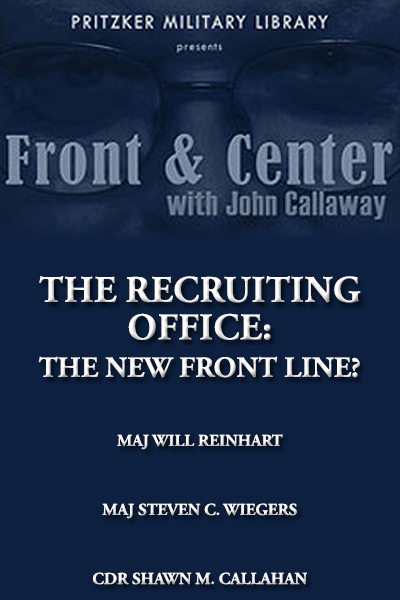 Record date:
Front & Center with John Callaway: The Recruiting Office: The New Front Line?
The Army and the Army Reserves missed their March 2005 recruiting goals, as they had in February of that year for the first time since May 2000. While the Navy and Marines successfully met their goals, the role of all recruiters became more challenging in the face of the American presence in Afghanistan and Iraq.
Major Will Reinhart is Commanding Officer, Recruiting Station Chicago. A Boston native, Reinhart was commissioned a Second Lieutenant of Marines in 1991. Following completion of The Basic School and Field Artillery Officer Basic Course, he was assigned to Camp Lejeune, North Carolina. While there, he served as a Forward Observer, Fire Direction Officer, and Executive Officer. In January 1995, Reinhart was reassigned to Recruiting Station Milwaukee where he served until July 1998 as the station Executive Officer. Reinhart was next transferred to Camp Pendleton, California, where he served as Adjutant, 1st Marines, and Deputy G-1/Manpower Officer, 1st Marine Division. From June 2001-June 2002 Reinhart was a student at the U.S. Army Command & General Staff College in Fort Leavenworth, Kansas. Following his studies, Reinhart reported to Recruiting Station Chicago where he is currently serving as the station's commanding officer.
Major Steven C. Wiegers assumed the duties of Executive Officer of the Chicago Recruiting Battalion in October, 2002. Born in Livingston County, Illinois, he was commissioned as a second lieutenant in the Ordnance Corps from Eastern Illinois University ROTC in 1986. His tours of duty include: Platoon Leader, Executive Officer, and BN S4/HHD Commander, 45th Forward Support Battalion, 3d Armored Division, Gelnhausen, Germany (1987-1991); Company Commander and Operations Officer, Combat Systems Test Activity, Aberdeen Proving Ground, Maryland (1991-1994). Logistics Officer, Combat Support Coordination Team Three, Yongin, Korea, (1998-1999); Most recently, he was assigned as Deputy Support Operations Officer of the 593d Corps Support Group, at Fort Lewis, Washington. Major Wiegers' awards include the Meritorious Service Medal with three Oak Leaf Clusters, Army Commendation Medal with two Oak Leaf Clusters; Army Achievement Medal with two Oak Leaf Clusters; and the Southwest Asia Service Medal with 3 Bronze Service Stars. He received a master's degree in logistics management from the Florida Institute of Technology in 1995.
Commander Shawn M. Callahan is Executive Officer, Navy Recruiting District Chicago. A graduate of the U.S. Naval Academy, Callahan was commissioned an ensign in the United States Navy in 1985. After serving as Communications Officer and Combat Information Officer in USS TATTNALL (DDG 19), he was Operations Officer and Engineer in USS UNDERWOOD (FFG 36); Material/Logistics Officer for DESTROYER SQUADRON THREE TWO and Navy representative to the Quadrennial Defense Review modernization panel, among other assignments. Prior to serving as Executive Officer at Navy Recruiting District Chicago, he was Director of Enlisted Strength, Accessions and Advancement Plans (OPNAV N132C). He earned an MS in Operations Research from the Naval Postgraduate School, Monterey, California, an MBA from Troy State University, Montgomery, Alabama and an MA in Military Operational Arts and Science from Air University, Maxwell AFB, Alabama. Callahan has earned the Meritorious Service Medal (two awards), Navy Commendation Medal (four awards) and the Navy Achievement Medal (two awards).