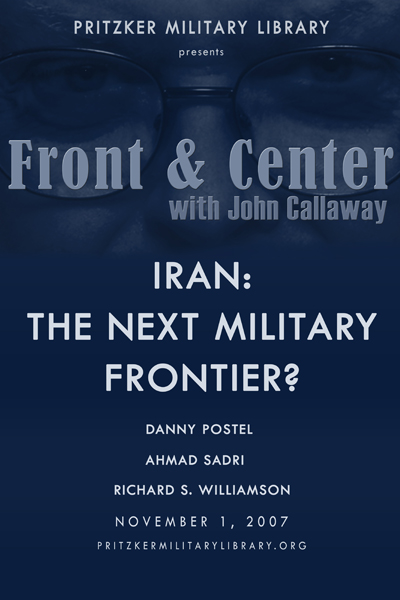 Record date:
Front & Center with John Callaway: Iran: The Next Military Frontier?
The September 2007 visit of Iran's president, Mahmoud Ahmadinejad, to the United States brought U.S. relations with Iran into sharp focus. Iran''s relationship with Iraq and role in the Middle East is complex. What role was Iran playing in the war on terror and in the U.S. role in Iraq? Did Iran's apparent supplying of weapons to Iraqi insurgents justify calls for action against that country?
Danny Postel is the author of the book Reading "Legitimation Crisis" in Tehran: Iran and the Future of Liberalism and is co-coordinator of the Committee for Academic and Intellectual Freedom of the International Society for Iranian Studies. He is Contributing Editor to Dædalus, the journal of the American Academy of Arts & Sciences; and a member of the editorial board of The Common Review, the magazine of the Great Books Foundation. His work has appeared in such publications as The Washington Post, The Chicago Tribune, The Guardian, The Nation, and the Tehran-based newspaper Shargh, which has been closed down several times by the Iranian government. He is currently co-editing a book of dialogues between the Iranian dissident Akbar Ganji and western thinkers.
Ahmad Sadri is Professor of Sociology and James P. Gorter Chair of Islamic World Studies at Lake Forest College. He received his BA and MA degrees at the University of Tehran and his PhD from the New School for Social Research. Sadri is the author of Max Weber's Sociology of Intellectuals (Oxford University Press 1992, 94) and editor and translator (from Persian) of Reason Freedom and Democracy in Islam (Oxford University Press, 2000) and (from Arabic) Saddam City (Saqi Press, 2002.) Sadri has authored three books in Persian published by Kavir, and Hermes Press, Tehran. He has also functioned as a columnist for Daily Star of Lebanon and a commentator at National Public Radio in Chicago.
Richard S. Williamson is a partner in the Chicago law firm of Winston & Strawn where he focuses his practice in federal and state government relations and regulatory affairs, as well as international trade matters. His international experience includes service as Assistant Secretary of State, International Organization Affairs, U.S. Department of State (1988-1989), United States Ambassador and Alternate Representative to the United Nations for Special Political Affairs (2002-2003), and Ambassador and U.S. Representative to the U.N. Commission on Human Rights (2004). Other experience includes representation of corporate clients before Congress and federal agencies. He is a graduate of the University of Virginia School of Law (J.D.) and Princeton University (A.B. cum laude).