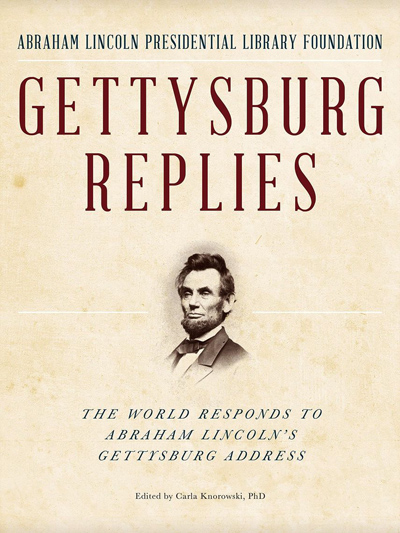 Record date:
Gettysburg Replies: The World Responds to Abraham Lincoln's Gettysburg Address, with Dr. Carla Knorowski, Samuel R. Harris, Major General John Borling, USAF (Ret.), and Newton N. Minow 
A unique collection of 272-word essays and poems by contributors ranging from historians to former presidents, the Abraham Lincoln Presidential Library and Museum's Gettysburg Replies is a celebration of Lincoln and a tribute to the everlasting impact of his Gettysburg Address. Sponsored by The Abraham Lincoln Presidential Library Foundation.
This program will be immediately preceded by a casual reception with light refreshments, from 5 - 6 p.m.
Almost five months after the Civil War's deadliest clash, President Abraham Lincoln and other Union leaders gathered to dedicate the Soldiers' National Cemetery in Gettysburg, Pennsylvania. The program for the occasion featured music, prayer, orations, and benedictions. In the middle of it all, the president gave a few commemorative remarks, speaking for just two minutes, delivering what we now know as the Gettysburg Address. 
Challenged to mark the enormity of the battle—which had turned the tide of the war, though neither side realized it yet—Lincoln used 272 words in ten sentences to rededicate the Union to the preservation of freedom. It remains the most important statement of our nation's commitment to personal liberty since the Revolutionary War, and has become one of the most important speeches in American history, a cornerstone of who we are as a country. A century and a half later, we still hold Lincoln's message in our hearts. 
For Gettysburg Replies, the Abraham Lincoln Presidential Library and Museum challenged presidents, judges, historians, filmmakers, poets, actors, and others to craft 272 words of their own to celebrate Lincoln, the Gettysburg Address, or a related topic that stirs their passions. President Jimmy Carter reveals how the Gettysburg Address helped bring Egypt and Israel closer at the Camp David Peace Accords. Supreme Court Justice Sandra Day O'Connor reflects on Lincoln's dedication to the importance of civic education. General Colin Powell explains how Martin Luther King Jr. took up Lincoln's mantle and carried it forward. Filmmaker Steven Spielberg touches on the benefits and perils of hero worship. Poet Laureate Billy Collins explores the dichotomy between the private man who wrote poetry ("My Childhood Home I See Again") and the president who stood before all. Attorney Alan Dershowitz echoes Lincoln's words to rally us to the freedom from weapons of mass destruction. 
Gettysburg Replies features images of important Lincoln documents and artifacts, including the first copy of the address that Lincoln wrote out after delivering it, the program from the cemetery dedication, Lincoln's presidential seal, and more. Together, these words and images create a lasting tribute not only to Lincoln himself but also the power of his devotion to freedom.
CARLA KNOROWSKI, PhD is Chief Executive Officer of the Abraham Lincoln Presidential Library Foundation, the gift receiving entity for the Abraham Lincoln Presidential Library and Museum in Springfield, Illinois. She is the editor of the best-selling Gettysburg Replies: The World Responds to Abraham Lincoln's Gettysburg Address, for which she also contributed an essay and co-curated an exhibit at the ALPLM ("The Power of Words," 2013) commemorating the 150th anniversary of the Gettysburg Address. She has previously contributed to Lincoln: An Intimate Portrait and is at work on a new book, titled Under Lincoln's Hat—due in the fall of 2016. A graduate of the University of Illinois at Chicago, where she earned a doctorate in Public Policy and Political Science, Knorowski serves on the board of directors for the Society of Midland Authors and has previously held key leadership positions at UIC, Northeastern Illinois University, and the Chicago Humanities Festival.
SAMUEL R. HARRIS is a Polish expatriate and Holocaust survivor who spent more than five years in Nazi concentration camps (Demblin and Czestochowa) as a child during World War II. A contributor to Gettysburg Replies, Harris emigrated to the United States as an orphan following the war and wrote his essay, titled "The Best Place on Earth," while attending New Trier High School in Winnetka, Illinois. Among his many professional accomplishments, Harris spearheaded the building of the Illinois Holocaust Museum and Education Center in Skokie, Illinois, where he holds the title of President Emeritus. His autobiography, Sammy, Child Survivor of the Holocaust, has been published in English, Spanish, Japanese, Russian and Polish, and in 2014, he was awarded the Ellis Island Medal of Honor.
MAJOR GENERAL JOHN BORLING, USAF (RETIRED) is a highly decorated 37-year veteran of the United States Air Force and author of Taps on the Walls: Poems from the Hanoi Hilton, a book of poetry originally composed while he was held for six and a half years as a POW in Vietnam's Hỏa Lò Prison. A native Chicagoan and Air Force Academy graduate, General Borling is founder and chair of SOS America (Service Over Self), a patriotic organization advocating military service for America's young men. An F-15 Eagle fighter pilot and commander of the famed "Hat in the Ring" squadron, General Borling's many awards include a Silver Star; two Distinguished Flying Crosses; three Bronze Stars with Valor Devices; and two Purple Hearts. He contributed a selection of poetry to Gettysburg Replies, entitled "A Common Path Taken."
NEWTON N. MINOW is an attorney, author, World War II veteran, and former Chairman of the Federal Communications Commission. Highlights of his long and illustrious career include appointments as Law Clerk to U.S. Supreme Court Chief Justice Fred M. Vinson, as Assistant Counsel to Illinois Governor Adlai E. Stevenson, and as Chairman of the FCC under the administration of President John F. Kennedy (1961-1963). A graduate of Northwestern University, he is the Walter Annenberg Professor Emeritus there, and is senior counsel in the Chicago office of Sidley Austin LLP, where he was a partner from 1965-1991. He is the recipient of 14 honorary degrees and countless professional awards, and is the author of four books and numerous professional journal and magazine articles. His contribution to Gettysburg Replies is titled "More Information, Less Understanding."