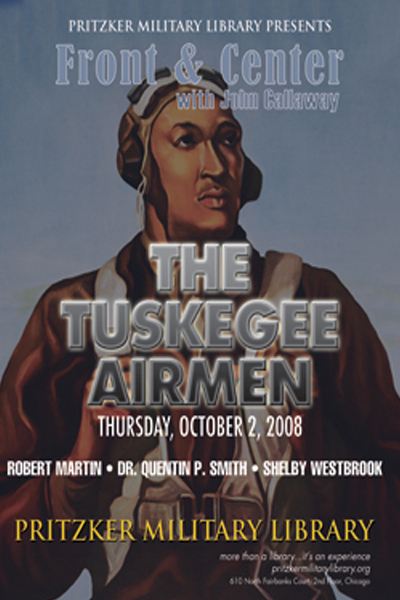 Record date:
Front & Center with John Callaway: Tuskegee Airmen
They were America's first black military pilots, fighting Nazis in Europe and Jim Crow at home. On this special presentation of Front & Center, John Callaway sat down with Robert Martin, Dr. Quentin P. Smith, and Shelby Westbrook, three of the legendary Tuskegee Airmen.
Robert Martin grew up in Dubuque, Iowa, and learned to fly in the civilian pilot training program while enrolled at Iowa State University. Martin joined the Air Corps at the age of 23. Tuskegee, he says, wasn't completely segregated - it was "segregated where they wanted it." The students, ground crews, mechanics, medics, and quartermasters were all black, but senior personnel like the instructors and Air Corps officers were all white; they lived off-base and left at 5 p.m., except for night training exercises. "You saluted them, you said 'Yes, sir', but you didn't have personal conversations with them," says Martin. "Those guys were like gods. In the blink of an eyelash, they could send an aspiring pilot to perdition."
According to official records, he flew 64 combat missions, but Martin prefers to call it "63 and a half"; he was shot down over Zagreb, Yugoslavia. Although his shin had been cut open by the parachute, Martin was able to find safety in a farmhouse; the next day, he was taken to the headquarters of Marshall Tito's Partisans and hidden there until he could safely return to his unit, five weeks later. Martin received the Distinguished Flying Cross, Air Medal with six Oak Leaf clusters, and Purple Heart. But when he came back from Europe after V-E Day, Tuskegee was still the only place he was allowed to serve.
After leaving the service, Martin's search for work took him to Chicago. Although fully qualified as an electrical engineer, there was little work for blacks in that field, so he had to take a variety of jobs instead - among them, driving taxis and working in factories. Eventually, he was hired as a draftsman by the Chicago Park District, and went on to work for 37 years as an electrical engineer with the city of Chicago.
Dr. Quentin P. Smith, Ph.D was born in Weldon, Texas. His father moved to East Chicago, Indiana to look for work—after what Smith describes as "difficulty with the deputy sheriff"—and the family joined him a couple of years later. Smith avoided the athletics department at Washington High School, preferring music instead. His school orchestra played at the 1933-34 World's Fair in Chicago, where Smith met a young professional musician by the name of Nat King Cole—and talked him into playing their high school prom a year later.
"Most of my colleagues yearned to fly," says Smith, "but I didn't give a tinker's damn if I ever left the ground." He didn't like mud, though, and his brother—who was in the infantry—reported that military service on the ground had plenty of mud. A friend of Smith's had founded the Coffy School of Aeronautics in Chicago, and tried to talk Smith into signing up; he declined, but after receiving his draft notice, he reconsidered. (And it didn't hurt that the Red Cross gave out two cartons of cigarettes for passing the test.)
Smith didn't fly quite like anybody else in school, though—at 200 lbs., he pushed pedals differently than his 130 lb instructor. At that time, all military planes were assigned to white pilots, so Smith flew "primary" planes (service aircraft) and served as a flight instructor for "primaries" at the Tuskegee Institute. Later, since he was too big for a P-40 or a P-51, he was made a bomber pilot. It was difficult to assemble a full crew, though; black pilots were not allowed to command white crews under any circumstances, even white crewmen at the rank of private.
After spending time at Fort Knox, near Louisville, First Lieutenant Smith was transferred to Freeman Field in his home state of Indiana. As an officer, regulations said that Smith could enter any officers club, but black officers were barred from the club,along with the tennis court and swimming pool, at Freeman Field. A colonel informed them that they could use the facilities, but only before 1700 hours; in other words, only during hours when they'd be working anyway. "We booed him off the stage," Smith recalls. He and the other black officers in the Air Corps were instructed to sign a new directive about the segregation of the officers clubs. Smith refused, along with 100 others, and they were confined to quarters. Three days later, an armed guard arrived; he and the other officers were sent to prison at Fort Leavenworth.
However, Fort Leavenworth, also segregated, wasn't prepared to handle the sudden arrival of 101 black prisoners, so they were shipped back to Freeman Field. ("This was one time when segregation was pretty good," says Smith.) The black officers who had signed the directive pooled their money and brought in a defense team led by Thurgood Marshall, who won their release. A little over two years later, Truman would sign the order to de-segregate the military. It was not for more than fifty years, however, through the intervention of several congressmen (and a fire that destroyed a records office), that the officers' service records would be formally cleared of the reprimand from the incident.
Smith went on to earn a Masters degree in English. He became a high school principal, and later the director of secondary education for Gary, Indiana, where he lives today.
Shelby Westbrook was born in Marked Tree, a small town in Arkansas. When his parents passed away, he moved in with his brother in Toledo, Ohio. In March 1943, shortly after he graduated from high school, Westbrook enrolled in aviation cadet training at Tuskegee Army Air Field. (He'd never been in an airplane, but he knew he didn't want to be in the infantry.) Westbrook finished pilot training in February 1944, and was sent to Selfridge Air Field near Detroit, Michigan, for training in single-engine fighter planes like the P-39 Air Cobra.
In July 1944, after further training in South Carolina, Westbrook was shipped to Italy with the 99th Fighter Squadron of the 332nd Fighter Group. On R&R, Westbrook went to Naples, Rome, and Vatican City, where his group visited the Sistine Chapel and met the Pope. As a combat pilot, he was even more widely-traveled; he flew 60 missions over 12 countries in Europe. On his 31st mission, his P-51 Mustang developed engine trouble, forcing Westbrook and his wingman to crash-land in Yugoslavia. They were rescued by a group of Marshall Tito's Partisans and delivered to a group of British intelligence officers, led by Randolph Churchill and author Evelyn Waugh. About one month later, Westbrook was back on duty. On a strafing mission over southern France, targeting radar stations one day ahead of a planned invasion, Westbrook believed he saw a fellow pilot, Richard Macon, crash into a building near Montpelier. It happened quickly, though, and the U.S. had no detailed records of it. More than fifty years later, while doing research with French-language materials, Westbrook was able to confirm that Macon had indeed crashed into a building—a German command outpost with more than 40 officers inside.
For his service in Europe, Westbrook earned the Distinguished Flying Cross, the Air Medal with 5 Clusters, the Presidential Unit Citation, the 15th Air Force Certificate of Valor and 5 Battle Stars, with an air-to-air victory over a German Me-109 fighter in October 1944.
Westbrook returned to the United States in June 1945. His plan was to attend an engineering school, but he was turned down—the director wouldn't accept black students. Instead, he came to Chicago and earned a degree in electronics from the American Television Institute of Technology. He found work in the machine division at one of the country's largest meat-packing companies, where he worked on vacuum-packaging technology for more than 18 years. Now retired, he is the author of Tuskegee Airmen 1941-1945, an extensive print and pictorial history of what he calls "the Air Force within the American Air Force."
Organizer
Beverly L. Dunjill flew his first airplane—a Piper Cub—at the age of 16, while working for and studying under Cornelius Coffy, founder of the Coffy School of Aeronautics at Harlem Airport in Oak Lawn, Illinois. He joined the Air Corps on June 4, 1945, and did further flight training at Tuskegee Air Field, but the war ended before he flew combat. He returned to active duty in 1949 with the onset of the Korean War, serving in the newly-integrated Air Force. Although he'd never flown a jet before, he picked it up easily. ("Flying's flying," Dunjill says.) He completed over 100 missions in Korea.
Dunjill left active duty in 1953 and the inactive reserves in 1957, going on to work on computing machines in Chicago. Today, he is the President of the Chicago DODO Chapter of Tuskegee Airmen, Inc. (Why a dodo? "Because it's an extinct bird that doesn't fly any more," he explains.) Tuskegee Airmen, Inc. provides national and local scholarships. Dunjill organizes speaking appearances at schools, talking to kids about America's first black military pilots. "The Tuskegee Airmen are one of the greatest secrets of World War II," he says. "We're rewriting history."