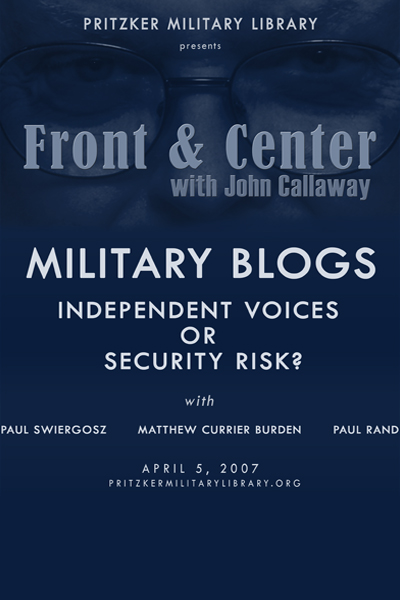 Record date:
Front & Center with John Callaway: Military Blogs: Independent Voices or Security Risk?
As in politics and for corporate America, the blog is a powerful new communications fact of life in the military. For the soldier in the field, a blog may be an emotional lifeline back home. For the advocate, a blog aggregates friends and foes. For military leaders, the troops' postings may represent grave security risks. With nearly 2000 active military-related blogs at the time of this recording and more online every day, both veterans at home and armed forces abroad are actively engaged. What impact is blogging having on the flow of information in the military? John Callaway and his guests explore this fast-growing phenomenon.
Matthew Currier Burden enlisted in the military when he was seventeen. He left the military as a Major in the U.S. Army Reserve in July of 2001. During his last assignment as Executive Officer of an Intelligence Detachment, Burden's unit received the Joint Meritorious Unit Award from the Secretary of Defense for their work in modernizing Intelligence gathering and analysis. He has a Masters of Science degree (Computer Science) from the University of Chicago where he received the Faculty Award, and is an IT Executive in Chicago.  After a friend's heroic sacrifice went unnoticed by the media, Matt started Blackfive.net in mid-2003 to support the troops fighting the War on Terror and tell their stories. He is the editor and an author of The Blog of War, a book about the effects of Web 2.0 on the military and bloggers' stories from war zones, published by Simon & Schuster, 2006.
Paul Rand is the President and CEO of the Zócalo Group, a Chicago-based marketing firm that helps companies and brands create sustainable word of mouth and customer evangelists. Prior to launching the Zócalo Group, he was a partner and the Global Chief Development and Innovation Officer for Ketchum, one of the world's leading public relations firms. He also served as the Director of Ketchum's Global Technology Practice and Managing Director for its Midwest operations. Prior to Ketchum, Paul was the founder and CEO of Corporate Technology Communications (CTC), the Midwest's largest independent corporate and technology communications firm, acquired by Ketchum in 2001. He serves on the Executive Committee and Board for the Word of Mouth Marketing Association (WOMMA). He was named in 2004 and 2006 to BtoB Magazine's Top 100 Marketers and has been featured and/or quoted on business and marketing and WOM issues in outlets including The Wall Street Journal, The New York Times, Business Week, National Public Radio, The Chicago Tribune, PRWeek, AdWeek, Advertising Age and numerous other outlets. He taught as an adjunct faculty member at DePaul University 's Kellstadt Graduate School of Business and currently serves as an executive member of the Dean's Advisory Counsel.
Paul Swiergosz is a U.S. Army officer on fellowship with Ketchum Public Relations Chicago through the Army's Training With Industry Program. He works with the Corporate and Brand teams to increase his knowledge of corporate public relations practices while sharing his unique military experiences with his colleagues. Paul's experience spans 17 years of operational and public affairs assignments for the Army. He served in the Pentagon on the staff of three senior leaders - the Undersecretary of Defense for Policy, the Assistant Secretary of Defense for Homeland Defense and the Assistant Secretary of Defense for Special Operations. He handled policy issues related to the Global War on Terror, Hurricane Katrina relief and Homeland Defense. He specializes in the areas of crisis management, media relations and media training, and his experience ranges from peacekeeping missions in the Balkans to the foundations of free speech in former Soviet-bloc countries. A Midwest native, Paul holds bachelors and masters degrees in journalism/public relations from Bowling Green State University in Ohio and Marshall University in West Virginia.