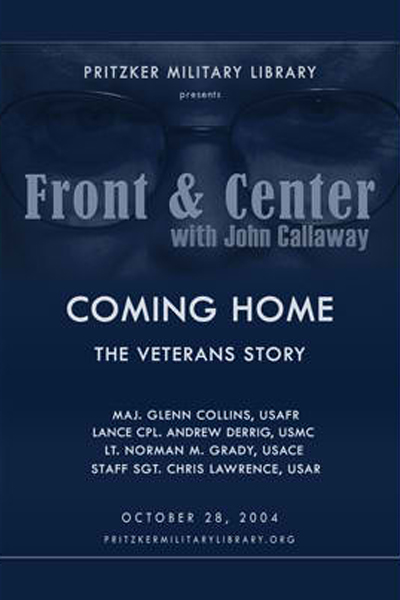 Record date:
Front & Center with John Callaway: Coming Home: The Veteran's Story
Service in Iraq is offering American military personnel new challenges in the field and at home. What are our soldiers experiencing in Iraq and what are they facing when they return home? John Callaway asks Iraq veterans to tell their stories.
Glenn Collins is a major in the U.S. Air Force Reserve and the founding partner of Hoff, Collins & Cook, a law firm specializing in aviation law. Collins spent three years as a commercial litigator in the Chicago office of Katten, Muchin & Zavis. A graduate of the Choate School in Wallingford, CT, and Brown University in Providence, RI, he received his law degree from Boston College Law School in 1989. Collins attended the U.S. Army Rotary Wing Flight Training School in Ft. Rucker, AL. He received his "wings" from the Army in 1991. He is currently serving as a C-130H pilot in the Air Force Reserve.
Lance Cpl. Andrew Derrig, USMC is currently attached to the U.S. Marines 2nd Battalion, 24th Marine Division in Chicago. A native of Chicago's Jefferson Park neighborhood, Derrig enlisted in the Marines after he graduated from Luther High School in 2002. The son and nephew of Marines, he trained at Camp Pendleton and was deployed to Iraq in March of 2003. He was in the first wave of Marines who entered Baghdad. Injured in a friendly fire incident in May 2003, he returned to Chicago.
LTC Norman M. Grady, USACE has been deputy commander, Chicago District, U.S. Army Corps of Engineers since July of 2002, where he is responsible for all military activities within the Chicago District. He served as a project manager/project officer, Sacramento District, and as assistant director, Directorate of Military Programs, Headquarters, USACE. He recently returned from Iraq as the first deputy commander of the Southern District, Gulf Region District. The district manages the $1.3 billion reconstruction program for southern Iraq. Grady was commissioned a second lieutenant in the Corps of Engineers upon graduation from the U.S. Military Academy at West Point in 1981. He received a master's degree in computational mechanics from the University of Texas at Austin in 1988, and is in the doctoral program in structural engineering at the University of Texas, Austin.
Staff Sgt. Chris Lawrence, USAR spent 12 years in the U.S. Army Reserves, including service in Bosnia and Kosovo in 1992-93. In 2003 he was deployed to Iraq where he worked with civil affairs teams to reestablish water supplies. He returned to the U.S in February 2004 and was discharged in July, 2004. Before joining the army reserves, he worked for the Governor of New York's Ombudsman office resolving issues between local governments and state agencies. He currently works for the Edgewater Community Council and is active in Operation Truth, a nonprofit organization that helps troops who served in Afghanistan and Iraq tell their stories. Lawrence has over ten years of experience in the private sector as a purchasing agent and material control manager. He attended a community college in New York as well as the University of Wisconsin in Milwaukee.