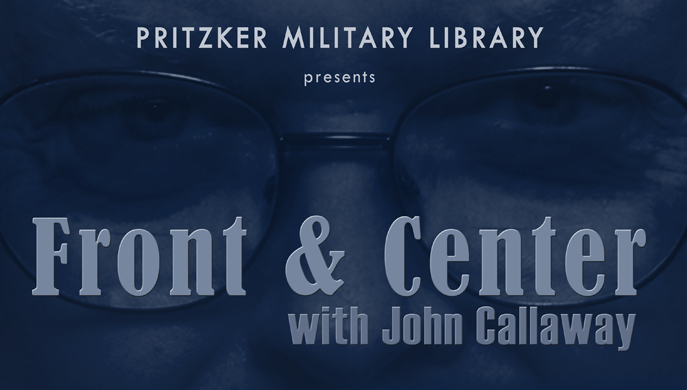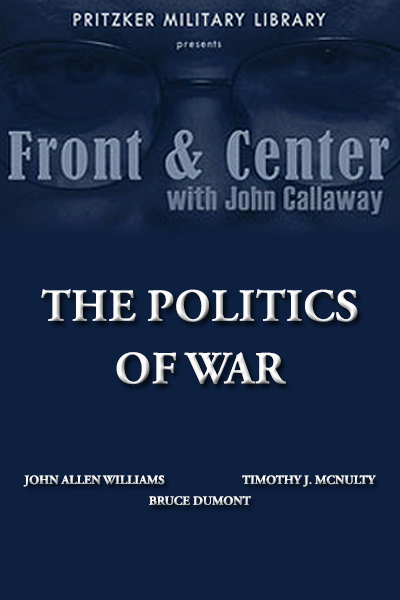 Record date:
Front & Center with John Callaway: The Politics of War
With the continued instability in Iraq and the Middle East and the ongoing war on terror, the political implications of war were the dominant theme impacting both international and domestic affairs in the United States at the time of this recording. Likewise in Iraq and throughout the Middle East, various factions vied for both political and military control. John Callaway and his expert panelists explored the politics of war and their impact on U.S. policy on Front and Center with John Callaway.
Host of Beyond the Beltway, Bruce DuMont is heard Sunday night on more than 60 of America's major radio stations, including WLS-AM/Chicago. The television version of the program airs Sunday at 10:30 PM on WYCC-TV/Channel 20 in Chicago. DuMont also anchors Illinois Lawmakers, a television series exploring the Illinois General Assembly, now in its 14th season on public television stations throughout Illinois. DuMont is Founder and President of The Museum of Broadcast Communications, one of only two broadcast museums in the United States. DuMont was the original producer of WGN/Chicago's Extension 720 in 1968. After an unsuccessful run for the state legislature, he returned to WGN in 1970 as producer of The Howard Miller Show. In 1973, DuMont left WGN to begin his own on-air radio career at WLTD/Evanston, Illinois where DuMont established a national reputation, due to his investigative interviews and reporting on Watergate . In 1978, DuMont moved to WBBM Television as producer of Noonbreak with Lee Phillip. The American Bar Association awarded DuMont a Golden Gavel Award for What Can Johnny Read? In December 1982, DuMont joined WTTW Television, receiving two Chicago Emmy Awards. DuMont was the original producer of Chicago Tonight with John Callaway. From 1984 through 1991, DuMont was the Senior Political Analyst for WTTW/Channel 11. In 1994, he received a Lifetime Achievement Award from his alma mater, Columbia College/Chicago.
John Allen ("Jay") Williams is Professor of Political Science at Loyola University Chicago. He is Chair and President of the Inter-University Seminar on Armed Forces and Society and chairs the Academic Advisory Committee of the National Strategy Forum in Chicago. His writings include works on civil-military relations, military culture, military professionalism and leadership, professional military education, personnel issues, military strategy, military forces and missions, catastrophic terrorism, defense organization, and strategic policy. Williams' latest books are U.S. National Security: Policymakers, Processes, and Politics and The Postmodern Military: Armed Forces After the Cold War. He retired as a Captain in the U.S. Naval Reserve with 30 years of commissioned service. A designated Strategic Plans Officer, he performed active and reserve duty aboard USS Columbus (CG-12), and with the U.S. Naval Academy, the Commander, Second Fleet and numerous Navy, joint, and civilian staffs in the Pentagon. His personal awards include the Legion of Merit, the Meritorious Service Medal (two awards) and the Navy and Marine Corps Achievement Medal. He received his B.A. from Grinnell College (B.A.) and his M.A. and Ph.D. from the University of Pennsylvania.
Timothy J. (Tim) McNulty became the Chicago Tribune Public Editor in March 2006. Prior to his appointment, he had served since 1991 as the newspaper's associate managing editor for foreign news, overseeing the newspaper's foreign desk operation, its 11 correspondents stationed abroad, the bureau in Baghdad and numerous freelance writers. He also helped coordinate the Tribune's diplomatic and military affairs coverage with the newspaper's Washington bureau. Previously, McNulty was the Chicago Tribune's foreign editor, and before that served as national editor, responsible for the Tribune's national correspondents in five bureaus. As the newspaper's White House Correspondent, he won the 1992 White House Correspondents Association award for journalistic excellence. McNulty has won the Tribune's Beck Award three times, for his contribution to reporting on Tiananmen Square in 1989; his coverage of the Israeli siege of Beirut in 1982; and for distinguished reporting on the suicides of more than 900 cult followers in Guyana, in 1978. McNulty holds a bachelor's degree from Wayne State University and a master's degree from Georgetown University.