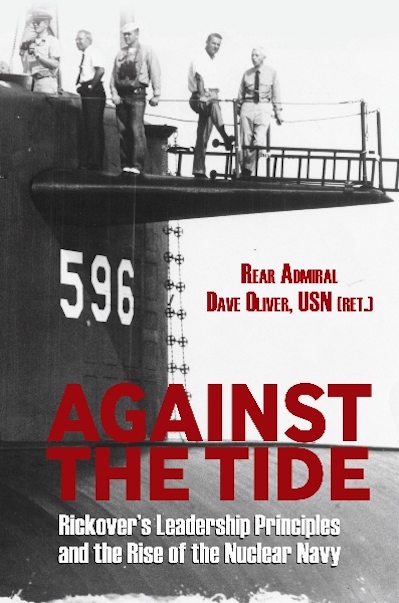 Record date:
Rear Adm. Dave Oliver, USN (Ret.), Against the Tide: Rickover's Leadership Principles and the Rise of the Nuclear Navy
A leadership book that illustrates the unique impact of Admiral Hyman Rickover's management techniques, Rear Adm. Dave Oliver's Against the Tide draws upon a wealth of untold stories to show how one man changed American and Navy culture while altering the course of history. Sponsored by the United States Naval Institute Press.
The driving force behind America's nuclear submarine navy, Rickover revolutionized naval warfare while concurrently proving to be a wellspring of innovation that drove American technology in the latter half of the twentieth-century. As a testament to his success, Rickover's single-minded focus on safety protected both American citizens and sailors from nuclear contamination, a record that is in stark contrast to the dozens of nuclear-reactor accidents suffered by the Russians.
While the venerable admiral has been the subject of a number of biographies, little has been written about his unique management practices, which changed the culture of a two-hundred-year-old institution and affected the outcome of the Cold War. Rickover's achievements have been obscured because they were largely conducted in secret and because he possessed a demanding and abrasive personality that alienated many potential supporters. Nevertheless, he was an extraordinary manager with significant lessons for all those in decision-making positions.
Rear Adm. Dave Oliver had the good fortune to know and to serve under Rickover during much of his 32-year career in the Navy, and is singularly qualified to demonstrate the management and leadership principles behind Rickover's success.
REAR ADMIRAL DAVE OLIVER, USN (RET.), is a 1963 graduate of the U.S. Naval Academy who spent 32years in the Navy, served at sea in both diesel-electric and nuclear submarines, commanded a nuclear submarine, and served as chief of staff of the Seventh Fleet. His final military tour was as principal deputy to the civilian Navy acquisition executive. During the Clinton administration he was Principal Deputy Undersecretary of Defense for Acquisition, Technology and Logistics and in the Bush administration he was the director of management and budget for the Coalition Forces in Iraq. After leaving the Navy he was the CEO of the EADS, North America Defense Company, as well as an executive at Northrop Grumman and Westinghouse. He now lives in Northern California.