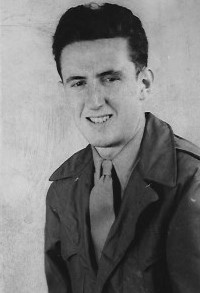 Record date:
Thomas Anthony Downs, Major US Air Force
From parachuting out of an attacked B-24 plane into Russian occupied Hungary during WWII to serving as a bombardier on a B-50, carrying nuclear weapons, during the Cold War, Thomas Downs' military service offered him a lifelong education. He learned the necessity of observing problems from different perspectives, staying alert to the unexpected, both of which was infused with a deep sense of gratitude.
Thomas Anthony Downs was born on April 30th, 1923 in Chicago, Illinois. Downs attended Tilden Technical High School on the South Side, intending to study engineering in college after completing high school. He graduated in June of 1941, just months before the Japanese attack on Pearl Harbor. Rather than wait to be drafted, he enlisted in the Army Air Corps, and was accepted for flight training. He left Chicago in December of 1943 for Stillwater, Oklahoma. Downs joined a B-24 crew of the 484th Bombardment Group, Heavy as a bombardier in 1944 before shipping out to Italy.
The 484th was based out of Torretto Airfield in the Foggia Airfield Complex. The 484th supported the bombing campaign across the European theater, contributing greatly to the 15th Air Force's campaign against Germany's fuel reserves and oil refineries. In February of 1945, Downs' plane was heavily damaged by flak on a mission targeting the refineries of Moosbierbaum, Austria. The crew nursed the plane into Hungary, towards Soviet lines, where they were forced to bail out. Shortly after landing, the crew was rounded up by Soviet forces. After being provided with a combination of medical treatment and interrogative questioning, Downs and the rest of the crew were sent to Bucharest where they were subsequently repatriated to their base in Italy.
After several months, Downs and his crew flew one final mission against German forces in Brenner Pass [Alps mountain pass which currently forms the border in between Italy and Austria] before VE Day. With the rapid demobilization that followed the end of the war, he was out of the Army Air Corps and attending college by August of 1945, though he opted to remain in the Air Force Reserve. With the advent of the Cold War, Downs was called up to active duty again, serving as a bombardier in the 43rd Bombardment Wing, Very Heavy. The 43rd flew the B-50, a redesigned and upgraded B-29 Superfortress. Based at Davis-Monthan Air Force Base in Arizona, the 43rd Bombardment Wing was tasked with delivering nuclear weapons onto Soviet soil, should a war break out between the competing superpowers.
Having married in 1947 and now raising a family, Downs returned to the Air Force Reserve in 1952. He worked as an engineer for most of his career at the Western Electric Company in Montgomery, Illinois, and he and his wife Sally raised four children.  He served in the Air Force Reserve for a total of twenty years, retiring with the rank of major.