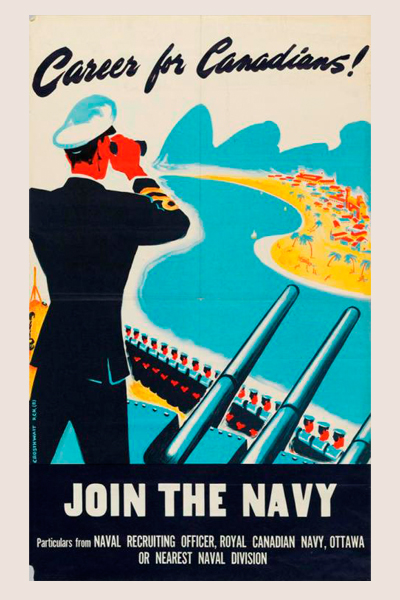 Record date:
Courtenay Wright, Lieutenant 
Courtenay Wright Transcript.pdf
Serving for the Canadian Navy during World War II, Courtenay became a radar officer, and later used his physics brilliance to advise the U.S. government during the Vietnam War, as part of a group of scientists called the JASONs.
Sydney Wright—who now goes by Courtenay—was born October 16, 1923 in Vancouver, B.C.  He explains that growing up, most of the jobs in Vancouver either dealt with lumber or selling alcohol, despite the Canadian prohibition.
Courtenay was the youngest of three siblings.  His parents both came from England but met and settled in Vancouver.  After high school, he attended the University of British Colombia as a physics major for a short time before the Canadian Navy snatched him up in 1943.  He was eventually assigned to the minelaying cruiser, Apollo, and shipped to Europe.  Because of his physics background and soldering iron knowledge, he became a radar officer.  He also mentions he was mostly self-taught—radar was fairly new at the time, so he never attended a special school for training. 
Unfortunately, Courtenay's ship ran into a little trouble near England.  The Apollo hit some rough rocks at sea, which significantly reduced the cruiser's speed.  While waiting on the ship's repairs, he spent some time on the ground in London, where he witnessed an attack on the city.  After a while, he was sent back to Canada, only to be shipped off again to the Mediterranean and the Pacific until the war ended.  In return for his service in the military, Canada funded the remainder of his education.  He earned his PhD in Nuclear Physics from Berkley University.  To launch his career in the field, physicist Enrico Fermi offered Courtenay a job at the University of Chicago. Courtenay grew very comfortable in the city, and made it his permanent home.
Shortly after moving to Chicago in 1949, he became an American citizen and connected with the JASONs—an independent group of scientists that advises the U.S. Government.  While he was with them, the organization was largely concerned with the Vietnam War, but he is limited in how much he could share because most of the information is classified.  His involvement with the JASONs lasted about 10 years.
Courtenay continued experimenting at the University of Chicago, Los Alamos, and the Fermi lab before retiring at age 70.  He lived in the Chicago area, happily married to his second wife, until his passing in 2018. He enjoyed his time in the Navy and is very grateful for the education the Canadian military provided him.