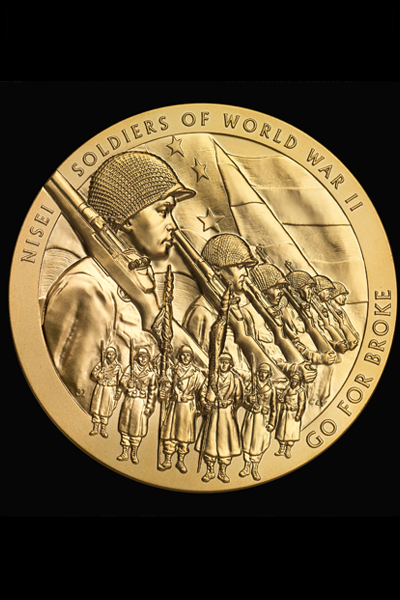 Record date:
Satsuki "Fred" Tanakatsubo, Private
Satsuki "Fred" Tanakatsubo, enlisted in the U.S. Army prior to the attack on Pearl Harbor, but as a Japanese-American, dealt with serve racism as a result of that attack; still, Mr. Tanakatsubo was able to use his background to become a front-line interrogator for the Military Intelligence Services during WWII, serving his country and overcoming many obstacles placed in his way.
Mr. Tanakatsubo was born on April 26th, 1920, in Sacramento, California. In his interview, he shares what is was like to grow up in the face of discrimination as a Japanese-American.
Growing up as a Japanese-American, money was always tight. Mr. Tanakatsubo explains the struggles of working long hours in a laundry mat just to make ends meet. Eventually, he managed to land a job with civil services after being turned down seven times. The discrimination against Oriental people during that time was harsh, but Mr. Tanakatsubo and his peers were taught to "turn the other cheek" and learned to go out and have fun in their community.
Figuring he would eventually be drafted, Mr. Tanakatsubo decided to enlist in the army in 1941 at 21-years-old. However, once the war broke out—and specifically once the attack on Pearl Harbor occurred—he and many other Japanese-Americans were stripped of their weapons and pulled from their units. Soon after, Mr. Tanakatsubo was shipped to Camp Savage and forced into Military Intelligence training.
He explains how life at these camps was exhausting. If he was not forced into cleaning or physical work, he was trapped in a classroom and forced to study Japanese. Being pushed around made him rebel and challenged his dedication. He did enough to get by, but he refused to go above and beyond for those who mistreated him, often leading those that would question the way that they were being treated.
Six months later, Mr. Tanakatsubo was shipped overseas. His furlough request to see his father before he shipped out was denied, and his father passed away in a Japanese internment camp while Mr. Tanakatsubo was in Australia. After much soul searching, Mr. Tanakatsubo requested a transfer to the frontlines, acting as an interrogator for prisoners. With this job, he was able to gather important information that gave those in direct combat a heads up for what was to come. 
Mr. Tanakatsubo explains how devastating it was to come back to California after his service without a home or family to return to. His father was dead, and it was difficult to track down his brothers. Eventually, he began trade school for dental work in Cleveland, and started working nights as a typist for the United States Treasury. Although it was exhausting, all his hard work paid off. He met his wife in Cleveland, and together they had three sons.
Grateful for everyone that served or serves, Mr. Tanakatsubo does not seek praise for his sacrifice because he sees his service as his duty—something that he had to do. He likes to share his story because he thinks it is important for people to open their minds and learn. As he reflects on his life struggles, he takes it all with grace because he knows he worked hard to ensure that his children would not have to face the same discrimination he did.
Mr. Tanakatsubo passed away on May 20, 2016.