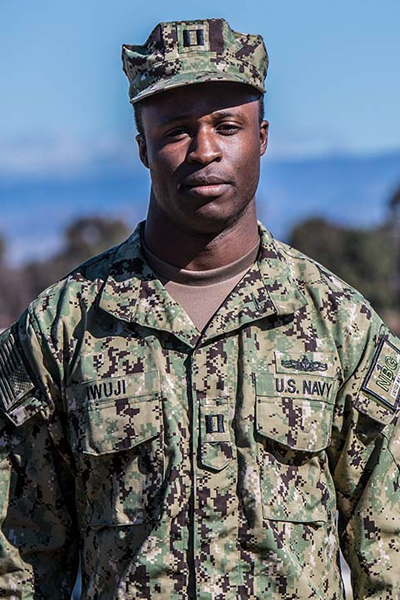 Record date:
Jesse Iwuji, LT USNR
From Naval Officer to NASCAR Race Car Driver, Jesse Iwuji is all about pursuing your dreams and inspiring others to do the same. It's communication and cooperation with the crew that that's key in charting the course of your ship.
Growing up in Dallas, Texas, Jesse had a passion for competitive football and dreamt of playing it in college. He realized that he could fulfill his dream while serving his country, at the same, by joining the Naval Academy.
The Navy must have grown on Iwuji, so that after his graduation he chose to accept a commission and became a surface warfare officer. He spent ten months in on a minesweeping ship around Bahrain as a First Tour Division Officer where the staff in the deck department was under his command. 
During his second tour on the USS Comstock, an amphibious warfare ship, 400 Marines joined the already 400 Navy men, on the ship. For about spent five months, the ship sailed around the Middle East: Abu Dhabi, Bahrain, Kuwait through the Straits of Hormuz. Fortunately for LT Iwuji, the "waters were calm" during his deployment.
Jesse began to channel his love of motor sports by racing during his free time, while in the Navy. Not one to do things in halves, he decided, to become a professional racecar driver in 2014. The fact that he was (and is) in the Naval Reserves and had (has) a day job as Head of Marketing and Sales at Magnus and Superchargers, did and does not deter him.  
In fact, after having raced in the NASCAR [National Association of Stock Car Auto Racing] Whelen All-American Series, Jesse is now competing in the NASCAR K&N Pro Series West and in the ARCA [Automobile Racing Club of America] Series.
When asked if and how the Navy helped him as NASCAR driver he replied:
"Radio communication … from ship to ship … helps me on the radio in a race car … being able to handle myself in high-stress situations … just being able to work with a team … [contributes] so that everything gels right …"
In addition to inspirational talks to young people, he also honors those who have served. For example, in the NASCAR race of 2015, he partnered with Phoenix Patriot Foundation to host wounded veterans at the event and to honor them by writing their names of the race cars.