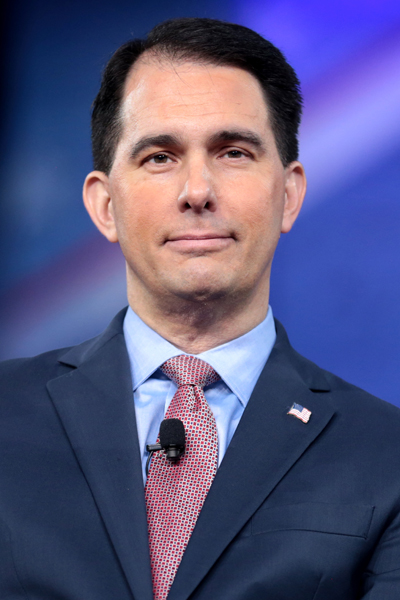 Record date:
Scott Walker, 45th Governor of Wisconsin
The conversation between 45th Governor of Wisconsin, Scott Walker, with LTG. Roger Schultz (Ret) opens a window on the unique nature of the institution of the National Guard which straddles both state and federal jurisdiction.  Walker was commander-in-chief for deployment of the Wisconsin National Guard in country when governor. Schultz, who served the US Army and the Army National Guard and who was selected as Director the Army National Guard guides the interview.
Scott Walker was born in Colorado, 1967, but his family would move to Wisconsin at a young age. Walker would participate in the American Legion Program Boys State, who later appointed him to represent them in D.C. Walker attributes this to have sparked his interest in public service. As governor of Wisconsin, he was honored to be commander in chief to the, "ten thousand strong men and women of the Wisconsin National Guard", who step up in times of need, be it at home or across the globe.
Walker explains that the his deployment of the Wisconsin National Guard within the US was facilitated through his adjutant general, Major General Don Dunbar who communicates and coordinates with his counterparts in other states.  In contrast, the president is the commander in chief for its deployments of units around the world.
There is interplay between local, state and federal roles of the National Guard as seen by organizations such as the Council of Governors. An interesting fact is that even when there are cutbacks in the military, the DoD [Department of Defense] can only remove a unit from the state's national guard with the concurrence of the governor.
Military commanders, based overseas expressed satisfaction with the Guard units' integration into the regular forces. Walker also notes the Guard's help to the population during disasters such as during the Wisconsin flooding in July 2017. To him, the guardsman epitomizes the citizen soldier. 
Walker attended all the deployments of the National Guard and presented the commanding officer for each of our units a Wisconsin flag folded, thus reminding them of the state's guard heritage and service, representing the diversity of people from the Civil War to today. Walker's office provides a public service perspective one of our oldest institutions.