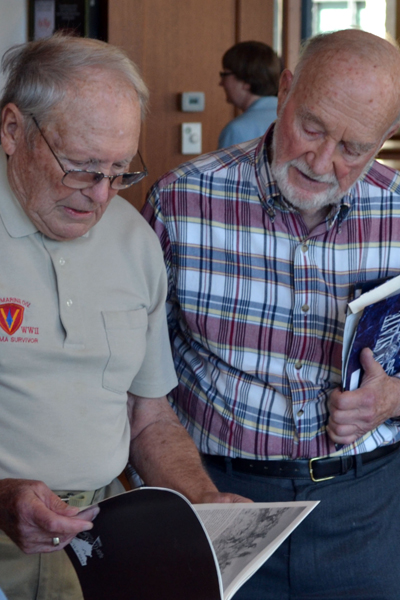 Record date:
Dr. Craig Leman, 2nd Lieutenant, and David Greene, Corporal
The Pritzker Military Museum & Library's Holt Oral History program was able to bring together Dr. Leman and Mr. Greene in order to discuss their individual actions at Iwo Jima, and share with an audience of family and friends the different perspectives of the two Marines that saw many of the same things during combat there.
Dr. Craig Leman:
Dr. Leman was born in Chicago, Illinois on March 12th, 1923, to Dorothy Nussbaum, a piano teacher, and Edward Leman, a bank employee. The exposure to classical music he received as a child cemented it in his heart for the rest of his life—everything from volunteering to play the pump-organ at religious services on the boat ride to Iwo Jima to serving on the board for and crafting rich program notes for organizations like Chamber Music Corvallis. After graduating from high school in 1940, Dr. Leman attended the University of Chicago and followed a pre-medical track until his concern for his fellow Americans led him to enlist in an officer training program with the U.S. Marine Corps. Dr. Leman enlisted in June of 1942, and then was called to active duty July 1943 with a V-12 program located at Northwestern University. While at school Dr. Leman swam, ran on the track team, wrestled, and felt guilty about not being on the front lines.
December 1943 saw Dr. Leman head to Parris Island for training, a unique experience due to the participants being both officer candidates and regular enlistees. He qualified as an expert rifleman, spent time as an Assistant Drill Instructor, and then traveled to Special Officer Candidate School in May 1944 at Camp Lejeune, North Carolina. After the demanding training there, Dr. Leman traveled by train across country to Camp Pendleton, California, for further preparation. He went overseas to Hawaii and joined the 5th Marine Division, and then traveled in convoy to Iwo Jima.
Dr. Leman's role at Iwo Jima was to land on Red Beach Two at 11 A.M., as part of the eleventh wave, and unload material—ammunitions, rations— from the landing craft while under fire. Amidst the scared seasick soldiers regurgitating their breakfast, Dr. Leman noticed their coxswain navigating them to the wrong beach, and had to threaten him with his pistol to get him to fix his course. Things did not necessarily improve from there: Leman was surrounded by death and destruction from the time of his landing until he left the island.
On March 3rd 1945, Dr. Leman went to the front lines with H Company, Third Battalion, 26th Marines, as leader of the first rifle platoon. This was a group of twenty-two men, down from an original forty-seven, who averaged twenty-one years of age—about the same age as Dr. Leman. They tried to move forward as ordered, but were too few to assault fortifications they couldn't see, that also housed an unrelenting enemy. For the next four days, the process of bombardment, attempted advance repeated until they attempted a surprise advance before a bombardment. Then moving forward towards a cave, there was a tremendous explosion that almost killed Dr. Leman and did kill the majority of his platoon. Dr. Leman rallied and organized the men remaining in the area, and pressed forward in the attack despite the extreme conditions. He was shot in the head while leading an advance. With effort and the cover from his men, Dr. Leman made it back to a fox-hole, and despite his injury adamantly remained with his unit his replacement came. For his courage, initiative, and leadership in battle here Leman received a Silver Star Medal.
After recovering from his injuries, Dr. Leman trained in Hawaii for the invasion of Japan. When the atomic bomb was dropped, plans slightly changed, and he became part of the occupation force. While there, Dr. Leman was appalled by the affects the war had on Japan, in particular on the civilian populace. To that end, Dr. Leman later became a member of the International Physicians for the Prevention of Nuclear War. Following a month in Japan, Dr. Leman served in the archipelago of Palau, and while fighting the remains of the Japanese army there, was promoted to operations officer.
Dr. Leman was discharged from the Marine Corps March 1, 1946. He returned to University of Chicago, where he received a Bachelor of Arts degree in history. With the aid of the G.I. Bill, he went to Harvard Medical School and earned a Doctor of Medicine degree in 1952. Following a residency in surgery at Peter Bent Brigham Hospital in Boston, Dr. Leman became a partner at The Corvallis Clinic, practicing general surgery and primary care. He also provided treatment in Palau, in Alaska, in Indonesia, Vietnam, Peru, and New Guinea, as well in the Sunflower House free medical clinic and in Native American communities. Dr. Leman taught bioethics at Oregon State University and served on its Institutional Review Board, as well as pushed smoking bans in public venues and received the Oregon Medical Association's 1963 Doctor Citizen of the Year. In 1948 Leman married Nancy Farwell; they were married sixty-six years and raised six children.
Dr. Leman died July 2014, at the age of 91.
David Greene
Mr. Greene serves as a great addition to this oral history program, providing a perspective on some of what Dr. Leman discussed from a completely different angle. Mr. Greene also has an extremely important story to tell; fortunately, we were also able to do an individual interview with him and you can learn more about his service by going here.