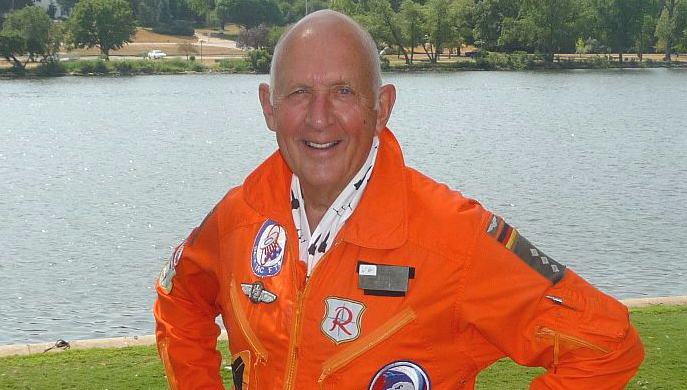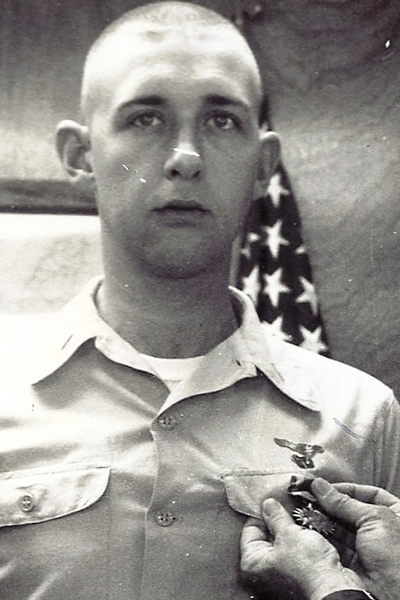 Record date:
John L. Borling, Major General
Major General John L. Borling, a career Air Force officer who spent over six and a half years as a prisoner of war in North Vietnam and once released, had a long and distinguished Air Force career, was interviewed as a collaboration between the Pritzker Military Museum & Library and the Abraham Lincoln Presidential Library's Veterans Remember – Vietnam Oral History project.
John L. Borling was born in Chicago, Illinois in March, 1940. He graduated from the United States Air Force Academy in 1963, and received his pilot's wings in 1964. By 1966 then-Lieutenant Borling was flying combat missions from a base in Thailand over North Vietnam. His F-4 Phantom was shot down on June 1, 1966 while flying his 97th mission. Borling spent the next six and a half years in enemy prison camps, including the notorious Hanoi Hilton. During the first few years as a prisoner of war (POW) he was kept in solitary confinement, subjected to torture and barely survived on a Spartan diet. In order to keep his mind active, Borling wrote poetry and passed it along to his fellow POWs by tapping them on the walls using a code system they developed themselves. Treatment of the POWs improved in the early 1970s. He and the rest of fellow captives were released on February 12, 1973.
Following his release, Borling received pilot refresher training, then was selected to be a White House Fellow from August 1974 to August 1975, serving during the Gerald Ford administration. He then attended the Armed Forces Staff College and following that he was assigned to the 94th Fighter Squadron, the famed Hat in the Ring squadron, which he soon commanded.  Borling attended the National War College, and he followed this with a tour at the Pentagon where he served as the chief of Checkmate Strategic Studies Group. In February of 1982, he was sent to Ramstein, West Germany where he commanded the 86th Fighter Group. He followed this assignment with a tour at the Supreme Headquarters, Allied Powers - Europe (SHAPE) in Belgium. 
In June of 1986 then-Colonel Borling was assigned to Headquarters, Strategic Air Command (SAC) at Offut Air Force Base, Nebraska. By June, 1987, he was the commander of SAC's 57th Air Division, based at Minot Air Force Base, North Dakota. He followed this with senior level assignments in SAC before returning to the Pentagon as a Major General, serving as the director of operational requirements from January 1991 to January 1992. Major General Borling finished his military career with a four-year tour at Allied Forces North (AFNORTH), NATO in Norway, first as the Deputy Chief of Staff-Air, and then as the Chief of Staff for AFNORTH-Europe in Stavanger, Norway. He retired on August 1, 1996 after thirty-three years of service.
Borling became the President of the Chicago area United Way shortly after his military retirement, a position he held for two years. He has remained active in a variety of different capacities since then, including serving as the director of Synthonics, a medical research group, as well as involvement in oil and gas exploration and other business ventures. He also gives speeches on a variety of topics. In 1997 he was instrumental in renewing a Memorial Day celebration in Chicago, which now occurs at the John A. Logan statue in Chicago's Grant Park. In 2004, he ran in the Republican primary for the U.S. Senate, the year that Barack Obama was elected to that seat. Borling also founded Service Over Self-America (SOS), an organization that promotes the concept that all of America's youth should serve their country in some capacity for a year. In 2013, General Borling published Taps on the Wall, a collection of the poetry he wrote while a POW during the Vietnam War.  
The Pritzker Military Museum & Library sincerely thanks the Abraham Lincoln Presidential Library's Oral History Program for their involvement in capturing this important story. More about the General, including the full audio of his interview, can be found here.
A graphic novel has been created illustrating Major General Borling's experiences.