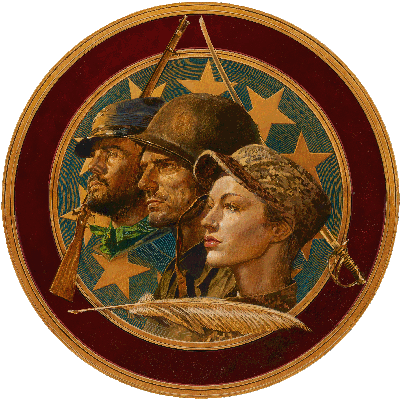 Blog
The Museum & Library is proud to continue guiding the general public through their exploration of military history, military affairs, and national security in greater detail thanks to the Pritzker Military Museum & Library blog. Here, the Museum & Library posts longer form content covering a wide array of events, topics, people, and moments in history. Blog posts are written by staff members of the Museum & Library, partners and friends, as well as authors that take part in or contribute towards programming. Keep the conversation alive by interacting in the comment section of each post!
Pride Month 2021

This June, we celebrate and honor the achievements of the LGBTQ+ members of the Armed Forces.

The Faltering Sinews of Democracy

On March 5, 1946, Winston Churchill outlined his vision of the essentials for a lasting global peace and mutual security after the horrors of World War II.

This Week in Military History: The Christmas Truce

In this week in military history, we explore the famous Christmas Truce of 1914 when the sounds of war faded across the Western Front, albeit briefly, and a moment of goodwill was shared during World War I.

Happy 245th Birthday to the United States Marine Corps!

Happy 245th birthday to the United States Marine Corps! The Pritzker Military Museum & Library takes pride in collecting, preserving, and sharing the stories of the Marines who have served our nation since its colonial beginning.
Subscribe to Blog