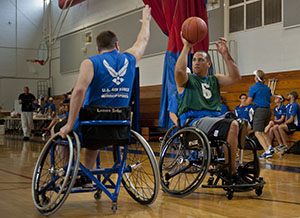 Adaptive Sports for Veterans
 Imagine you're on a fascinating military career path. You've just begun touring as a musician while studying the future of warfare as part of a special initiative. All this excitement comes to a screeching halt the night you and your family are in a car crash. Thankfully everyone survives, but your injuries are extensive… How would you cope emotionally, physically, or financially?  How do you and your family evolve and adapt to rediscover your new normal?
One of the ways many veterans cope with their injuries is with the Unites States Department of Defense's (DoD) Warrior Games. It is a competitive event for male and female military service personnel and veterans who have been injured or stricken by illness while in service. The soldiers do not necessarily need to have been wounded in combat to join. The country stands behind each of these individuals because all of them swore an oath to serve their country.
For competitors like James Pradke, a 2017 Warrior Games competitor, training for this competition sparked a suppressed sense of purpose. The approach of the DoD Warrior Care program and related programs goes beyond reconditioning. The programs aim to reintegrate wounded veterans back into civilian life, while offering support to ensure that neither they nor their families or caregivers are forgotten.
In our Warrior Games: Recovery, Rehabilitation, and Reintegration episode of our Pritzker Military Presents series, host Floren Groberg, who had been injured by a suicide bomber, talks about the importance of taking that first step. That first pushup or sit-up that helps kindle the spirit of "Etiam in Pugna," meaning "Still in the Fight," the motto used by the Marine Corps Warrior Games team.
The camaraderie experienced in the games cannot be understated. Teams are comprised of service branches ranging from the U.S. Army to the U.S. Special Operations Command. Games often include international participants – this year, both Ukraine and Georgia will be represented. The twelve sports the teams compete in range from powerlifting to wheelchair basketball and everything in between.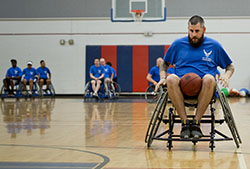 Adaptive sports often utilize modified equipment and help broaden the already existing classification that exists in sports. Let's look at the example of cycling. For those whose stability has been compromised, hand cycling or recumbent cycling are adaptive and safe options rather than the classic upright bicycle. For someone whose sense of sight or sound has been limited, tandem cycling with another cyclist's set of eyes and ears will do the trick. All of these classifications or categories are represented at the Warrior Games.
The first Warrior Games competition was held in 2010. In 2017, the Pritzker Military Museum & Library was one the sponsors of the Games, held in venues across Chicago, such as McCormick Place. Since the games were held outside of a military base or an Olympics training ground, crowds of family and friends were able to cheer on the athletes for the first time in the competition's history.
Lieutenant Andrew Hoyle, US Navy Chaplain Corps represented the Navy in the running, cycling, and swimming events that year in 2017. His oral history episode, linked in the list of resources below, was so powerful that Museum & Library's Director of Production said, "It left me in tears, twice."
The Warrior Games were slated to be hosted at ESPN Wide World of Sports at Walt Disney World Resort in Orlando, Florida, from Sept.12-22, 2021, but were unfortunately cancelled due to the pandemic. Instead, this year will mark the first Military Adaptive Sports Virtual Challenge!
Learn more about the games and their history in the resources linked below!
Resources
PMML Produced Videos:
Lieutenant Andrew Hoyle, US Navy Chaplain Corps
Warrior Games: Recovery, Rehabilitation, and Reintegration
Stories of Service: The Holt Oral History Program 2017 Highlights
Other Resources:
Adaptive Athletic Reconditioning:
https://www.pritzkermilitary.org/explore/library/online-catalog/view/oclc/933562052
Adaptive Parallel Track Skiing:
https://www.pritzkermilitary.org/explore/library/online-catalog/view/oclc/840836308
Let No One Sit on the Sidelines:
https://www.pritzkermilitary.org/explore/library/online-catalog/view/oclc/817994810
Military Adaptive Sports Program:
https://www.pritzkermilitary.org/explore/library/online-catalog/view/oclc/1016458921
They Served Our Country Now It's Our Turn to Serve Them:
https://www.pritzkermilitary.org/explore/library/online-catalog/view/oclc/1011688674