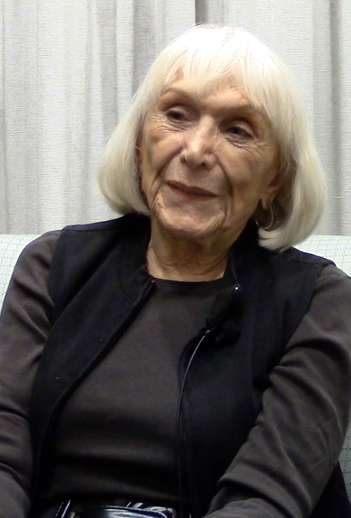 Record date:
Genevieve Bowen Transcript.pdf
Genevieve Bowen, US Marine Corps Women's Reserve
Drawn to a large cutout of a woman Marine in her winter uniform, Genevieve Bowen walked into an office only to pick up a brochure while at the U.S. Federal Building in Rochester, New York. "I looked at it and I thought, 'Oh, I'm gonna get a brochure.' I didn't know it was a recruiting office. I was totally naive about the whole thing," she recalls. Shortly after, she walked out as an enlisted marine.
Born in Rochester in 1922, Bowen is the first generation of Polish immigrants and the only daughter of five children. Her father established the Tool and Die department at Gleason Works. None of her four brothers served in the military, but one was a sketch artist for the United Services Organization. After the attack at Pearl Harbor and the US entered the war, Bowen didn't join the Women's Army Corps or the Women Accepted for Volunteer Emergency Service like her peers because she thought her dad would frown on it. None of her family, except for one brother, were pleased when she enlisted. But her father's strict attitude while growing up assisted her while training at Marine Corps Base Camp Lejeune in Jacksonville, North Carolina.
"For me, boot camp was easy," she remembers. "For a lot of girls, it wasn't." Bowen and the other women marines went through the same physical program as them men did other than rifle training. After basic training, Bowen was assigned to Parris Island and worked in various jobs, including payroll, court reporter, and signing in men from overseas. Bowen saw countless young men return from war with trauma in their eyes, many of which, lied about their age to enlist, she says.
It was during this time that Bowen met her husband, Dick, who served in the Pacific theater. He was also a member of the Professional Golf Association, which Bowen says likely saved his life. Dick was golfing buddies with a colonel who gave him a leave of absence shortly before his company was given orders to deploy to Iwo Jima. "That did save him. I mean, anything could have happened," she recalls "The casualties were horrendous there."
 After the war, Bowen and her brother traveled to Japan and visited the Hiroshima Peace Memorial Museum. She's intrigued by Japanese culture and hopes to return to the country someday. She became a member of the Women Marines Association and also studied fine art at the School of the Chicago Institute of Art and eventually became a painter and a sculptor. While she had to keep another job to support her art, Bowen did find success. "Name wise, I did very well," she says. "Money wise, not too good."
Bowen looks fondly on her experience in the Women's Marines. Her story is filled with emotion, twists, and showcases how life in the service can set a course for an individual's life.