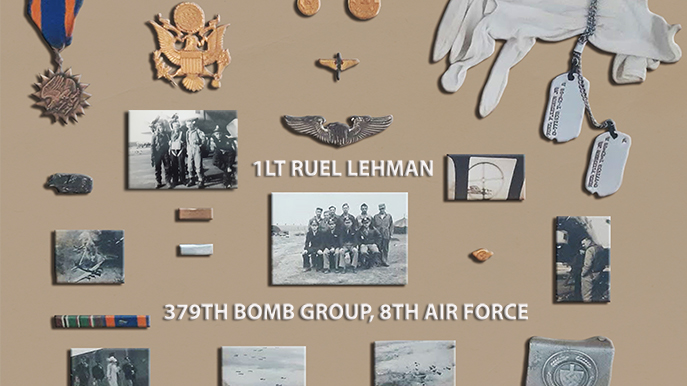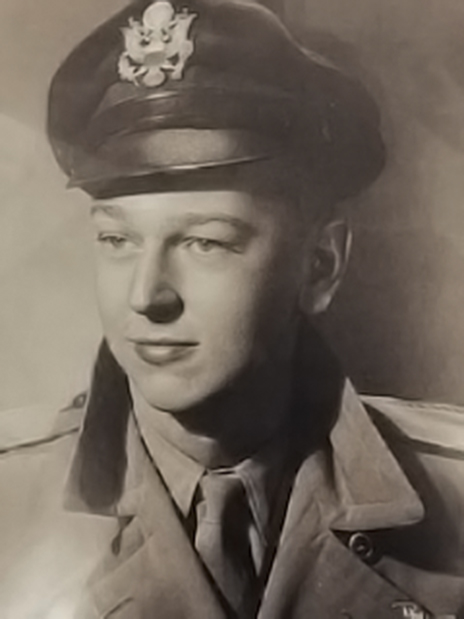 Record date:
Ruel Lehman Jr., First Lieutenant
"No one alive flew or went through the military training program for the Boeing B-17 Flying Fortress" chuckles Ruel Lehman, a veteran of this aircraft, as he reads from a newspaper article, published in 2019.
Although planes were only a side interest to Ruel growing up, he found himself, co-piloting/piloting B-17s for thirty-five bombing missions into enemy territory in Europe, during World War II as part of the US 8th Air Force, 379th Bomb Group, in 1944-1945.
Lehman marvels at the stability of his formative years, in Oak Park, Illinois, where he enjoyed his studies, sports, and scouting activities. His father, an early electrical engineer, worked steadily, during the Depression. Unlike many American who were shocked by the attack in Pearl Harbor, in 1941, Lehman was part of a milieu that was well aware of harbingers such as the Spanish Civil War, the annexation of the Sudetenland, and Anschluss,  He describes the high motivation of his peers and him to serve --  two friends even resigned from their jobs in the war industry so that they could enlist.
Lehman volunteered after one semester at the University of Michigan, so that he could choose a service, rather than be drafted as an infantryman. He was sent to Fresno, California for basic training, in 1943, for about six weeks. 
Being chosen for Air Force meant that Lehman was required to do extensive training at a time, when the Force was scrambling. The University of North Dakota offered courses, the most practical of which Lehman asserts, was the French language, in the event that they would be shot down. It was in Dakota, too. where they were introduced to ten hours of flight in the two-seater, Aeronca.
This was followed by flight training in Santa Ana, Hemet, and Bakersfield, California, as well as Marfa, Texas for planes with progressively more engine power. Lehman describes different aspects – navigation, mechanics, the Link Trainer – a simulator where the trainee had to use instrument in the dark, a "cross county flight" at night to El Paso, then east for a while, then back to the base, which turned out to be a close call. In ground training, Lehman speculates whether the task of manipulating a long needle-like projection into a metal circle --was to intended test certain traits such as persistence.
They would then train on the four engine B-17s – which they would fly on their missions -- with a crew of nine people at Rapid City, South Dakota. This also meant picking up a brand-new plane from Kearney, Nebraska and, later flying it Atlantic to Northern Ireland.
From there, they were then were shipped to Kimbolton Airfield, England, in August 1944, originally built for the RAF and, in 1942, assigned to the US 8th Air Force. Questions emerged. For example, would it better to carry a pistol in self-defense to stave off an aggressive civilian?  Or would it be better to be remain unarmed? This would have the advantage of being taken as a prisoner of war rather than be shot, if captured.
When promoted to first lieutenant, Lehman preferred to stay with this crew as co-pilot, where he flew thirty-four bombing missions, mostly to military targets though he did fly as first pilot for the last flight. Typically, the planes were flown at an elevation of about 27,000 feet, or five miles high so that the crew would not know whether the bombs released hit their targets or not.  
"I'd' like to think we had empathy for the people but… I have to confess our thoughts were survival. We just want to live."
Lehman explains the necessity of a squadron flying in a formation of twelve planes, which, in turn, is part of a group of thirty-six planes. A lone B-17 was vulnerable to a German attack. Indeed, during his first mission where one of the engines was shut out, the pilot decided to lag behind the formation as to prevent too much stress on the other three engines. This resulted in a tongue-lashing from the commander.
Ruel is also grateful that he began flying in 1944, rather than earlier in the war:
"…our savior came along the - P-51 Mustang… [with]…  wing tanks…. Carrying extra fuel… would get them able to accompany us almost all the way to the target"—p. 15
Flying through enemy flak, antiaircraft fire, from the 88mm cannon, resulting in metal fragments that tear the nearby aircraft, exemplifies Lehman's service. While these bursts can appear like a firework show at a distance, it was, of course, a real danger. During his crew's mission to Merseburg, Germany, the plane was forced to fly low, at 19,000 feet, due to cloud cover and the enemy flak hit about 300 flak holes.  In the interview, Lehman, points to a piece of flak, silk glove, and photos which he has framed.
He was sent stateside before VE Day where he was, in time, assigned to Air Transport Command, training at Homestead, Florida. His last "stop" was at Fairfield-Suisun, California, training to carry troops from Okinawa and Guam to mainland Japan but V-J Day happened before he was scheduled to fly overseas.
Lehman pursued a master's degree in business and a career in it, eventually becoming a vice president of a local utility. Lehman married and raised a family choosing to come full circle and live in Oak Park.