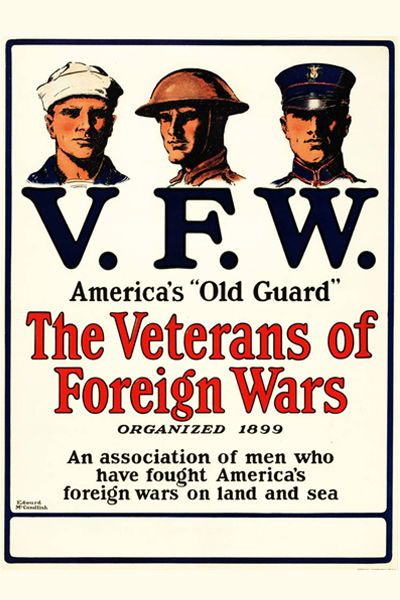 Record date:
Anthony LaFalce (E-7) and Paul LaFalce (PFC E-3)
A unique opportunity to hear two stories about serving in the army, a generation apart, between a father and a son—one that was able to use his talents to help entertain the troops during WWII, and the other who found talents he didn't know he had with RECON in Vietnam.
Anthony LaFalce, Tech Sergeant (E-7)
Anthony LaFalce was born in upstate New York, in 1921. In his interview, he recalls what it was like to grow up as one of eleven children in a family of Italian immigrants, how his mother taught him and his brothers how to sing and play instruments, and how they made money during the Great Depression by working nights and weekends as the LaFalce Brother's Orchestra. He also recalls dropping out of school in 10th grade to work in a factory to make ends meet, while still working a musician with his brothers.
In August of 1942, Mr. LaFalce was drafted by the U.S. Army. After some brief training at Fort Eustice, in Virginia, he was shipped out to Panama. While waiting for his next assignment at Fort Amador, he had the luck to be approached by the leader of the fort's band, asking if he knew anyone who could play the saxophone. Mr. LaFalce volunteered himself, and thus began his career as a member—and eventual leader of the band. He stayed there for two and a half years, until the end of the war.
After the war, he returned to his large family in New York and got married. He and his wife had four children, one of whom also served in the military—Paul, who did his own oral history interview with his father. Mr. LaFalce went into the shoe business, specializing in corrective footwear, but he continued to play music regularly. He and his brothers even had a record contract with RCA Victor, and appeared on the Arthur Godfrey Show. Eventually he moved to Florida and worked in the shoe business, played his sax professionally, and retired at age 85.
Paul LaFalce,  PFC (E-3)
Paul LaFalce was born in 1949, in Poughkeepsie NY. In his interview, he recalls growing up surrounded by the various members of his large Italian family, including his father Anthony, a veteran of WWII.
LaFalce talks about his happy childhood, attending school with his many siblings and cousins, where he played sports year-round and enjoyed listening to the music of the time. After he finished school, he decided he wanted to see more of than world, and began working for an airline company in Chicago. However, in March of 1969, Mr. LaFalce got drafted, and with the support of his family and the guidance of his father, he went off to basic training at Fort Dix in New Jersey.
There, he discovered that he was a natural with automatic weaponry, which would play a large role in going to Vietnam. Before shipping out, he had just enough time to watch the moon landing with his cousins. In Vietnam, he was assigned to the 4th Infantry Division in Pleiku, but after a few days with their Delta Company, he and a friend realized that the unprofessionalism of that group would soon get them killed. They decided to ignore Paul's father's advice and volunteer for the RECON team— a much more respected unit.
As part of RECON, LaFalce enduring countless days of silent marches, sleeping out in the rain, and regular ambushes. However, the platoon gained the reputation of being one of the best (despite being real trouble makers whenever they were at the base), and they came out on top of almost all of their engagements.
After a year, LaFalce's time was up, and he got to return to his family in the United States. He resumed his job with the airline company, and eventually got married and had three sons. Since his retirement, LaFalce enjoys spending time with his children and grand-children, as well as taking care of his father.
He admits that sometimes the attitudes of the time towards Vietnam veterans were difficult, but he's remained close to those he served with, and he is very proud of the young people who serve today.