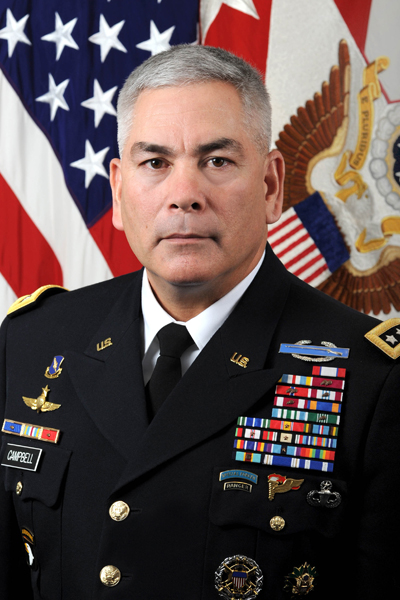 Record date:
Maj. Gen. John F. Campbell, USA and Mrs. Ann Campbell
In May, the 101st Airborne Division (Air Assault) completed its year-long rotation in Eastern Afghanistan. The Screaming Eagles formed the backbone of Joint Task Force 101, a multi-national collective of military and civilian forces that were responsible for a 43,000 square mile region of Afghanistan designated as Regional Command-East.
This region, with its 450 miles of border with Pakistan, saw some of the heaviest fighting of the war over the past year with the 101st losing 133 soldiers, the most causality for the unit in a single deployment since the Vietnam War.
Commanding Joint Task Force 101 was Major General John F. Campbell, commanding general for the 101st Airborne. Prior to this, he worked for the Joints Staff J-33 Joint Operations Division-CENTCOM and has been deployed to both Iraq and Afghanistan in support of Operation Iraqi Freedom and Operation Enduring Freedom. In Iraq, General Campbell was the Commanding General for Maneuver for the 1st Cavalry Division and 4th Infantry Division. He also commanded the 1st Brigade, 82nd Airborne Division and the 504th Parachute Infantry Regiment and deployed his Brigade Combat Team to Afghanistan.

General Campbell has said that killing insurgents alone will not win the war in Afghanistan. Instead, security efforts must work hand in hand with governance and development initiatives to foster stability and opportunity for the citizens of Afghanistan. To this end, RC-East has seen unprecedented coordination with civilian professionals from the U. S. Agency for International Development (U.S. AID), the State Department, and the U.S. Department of Agriculture with over 150 U.S. civilian professionals working within R.C.-East alone.

In this interview, General Campbell discussed his experience with Joint Task Force 101 and key issues surrounding Operation Enduring Freedom. The General was joined by his wife, Ann, and together they discussed the effects that deployment has on families and the importance of family for the soldier at war.
Sponsored by: Squadron Capital