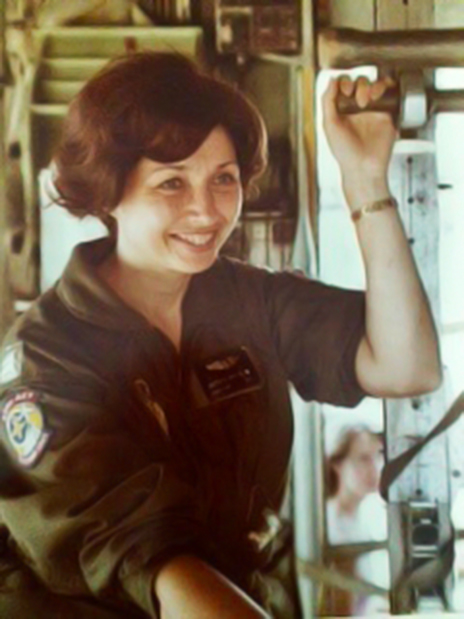 Record date:
Betty Bonwell Paps, Colonel, US Air Force
Many are attracted to the US Air Force for its fundamental yet exciting prospect of flight. But not all imagine a life as a pilot or operations specialist. The idea of doing something different—traveling somewhere new or even just leaving the ground alone—presents a real outlet for this desire to a wide variety of occupations. Thus becoming both a professor of nursing and an Air Force colonel became the reality for one tenacious nurse. After Betty Bonwell Paps realized that she didn't want to pursue traditional hospital nursing, she seized the opportunity to become a member of the Air Force reserves, kickstarting an impressive twenty-year career of flight nursing, education, and military leadership.
Born the middle child of five to a homemaker and a successful farmer, Betty Bonwell Paps enjoyed a typical rural midwestern childhood in Scottland, Illinois. When she graduated high school in 1955 and was faced with the expectation of becoming either a secretary, a teacher, or a nurse, Paps elected for the shorter three-year nursing program and became a fully registered nurse by the young age of twenty. But her eventual career would be anything but short and effortless.
In part due to the encouragement of famed General Wilma Vaught, a close neighbor and family friend, Paps joined the Air Force in 1974 and was automatically commissioned a captain. The ability to fast-track straight to flight school, past basic training, and the "lieutenant years," came as a result of her holding both a master's degree in nursing and having accomplished fifteen years of teaching experience with City Colleges of Chicago. Within six years, Paps made chief flight nurse and after about a decade in the reserves, she rose to the rank of colonel.
Throughout this time with the reserves and the college, Paps shouldered the responsibilities of teaching, flying training missions, and raising two daughters—all while attending more nursing courses to work towards her Ph.D. But within a few months after she achieved colonel, she was called up to serve her first stint of active duty in 1990. With only about two weeks to organize her affairs and prepare her family, which by this time included a young grandson, Paps was soon on a plane to Riyadh, Saudi Arabia.
What is perhaps most unusual about Paps' work with the Air Force prior to her deployment is that she and her team only ever trained. In traveling to different air bases around the United States, each flight served as a routine drill complete with hypothetical patients and total coordination of equipment and personnel through countless scenarios and practical dilemmas. Though her reserves patients were never real, her experience as a member of the Desert Storm aeromedical crew had a truly life-and-death impact that proved all practice was necessary.
Paps explains that there was no real difference in treating live patients in comparison to going through the motions with a paper card that read "heart attack." Their intensive training, which for Paps lasted nearly seventeen years before she was able to apply her knowledge in an active conflict, meant that they were completely and thoroughly prepared. And this came in handy one night in Saudi Arabia when Paps was called to lead her aeromedical crew on a flight to pick up over fifty prisoners of war. They cared for these individuals in-flight, with many requiring IVs and chest tubes as well as monitoring for high temperatures and dehydration. But with a full medical crew and the help of a translator, Paps' command was successful time and time again.
When asked about her military occupational specialty and her philosophy on "the enemy," Paps maintains that army-medical views sides as a matter of differing perspectives or goals. "As nurses, we take care of all people," she asserts. With several months of active missions under her belt and the Gulf War winding down, Colonel Paps returned to the United States having tested her extensive training and strengthened her feeling of military camaraderie. Through both her own continued leadership role and the collaborative experience of serving on a team, Paps continued to live her life gaining the most from any responsibilities that came her way.
Throughout the remainder of her career as a nurse educator and Air Force reservist, and well into her retirement, Paps still utilized her admirable foresight, open mind, and penchant for excitement and challenge. She went on to secure national accreditation for her college's nursing program, the first program of its kind in the City Colleges of Chicago, and also revised curriculum and developed new programs that helped create a new generation of registered nurses. Even after retiring from teaching in 1996 and from the reserves in 1994, Paps could not stay away from airports. Having traveled to all seven continents, and more countries and regions than one could count, she remains steadfast in her belief that the world is an astonishing place. With a lifetime of memories from work, family, travel, and service, Betty Bonwell Paps reminds: "There's always something to learn."