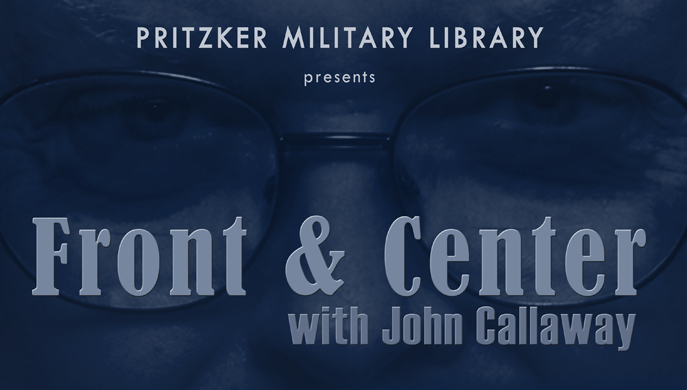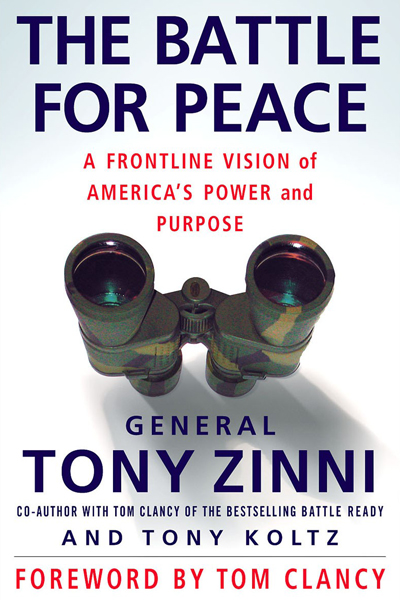 Record date:
Front & Center with John Callaway: The Battle for Peace: A Frontline Vision of America's Power and Purpose
Why are a growing number of high ranking retired officers speaking out for a sweeping change in administration strategy and leadership? How effective are we as a nation in recognizing our international objectives and meeting global challenges? How can America leverage its power and influence in the war on terror? John Callaway sat down with General Anthony Zinni, Benjamin Page and Charles Glaser for a discussion on Zinni's new book, The Battle For Peace.
General Anthony Zinni, USMC (Ret.) retired in July 2000 after nearly 40 years of service, serving as commander in chief of U.S. Central Command, MacDill Air Force Base, Fla., from 1997 to 2000, a position that included responsibility for 25 countries ranging from the Horn of Africa and Egypt to the Arabian Peninsula to Southwest and Central Asia. From 1994 to 1996, he commanded the I Marine Expeditionary Force; during 1995, he commanded the Combined Task Force for Operation United Shield protecting the withdrawal of U.N. forces from Somalia. Zinni served in several other capacities in Somalia: from 1992-1993 as operations director for the Unified Task Force Somalia for Operation Restore Hope; and in 1993, as assistant to the U.S. Special Envoy to Somalia during Operation Continue Hope.
His decorations include the Defense Distinguished Service Medal with oak leaf cluster; the Distinguished Service Medal; the Defense Superior Service Medal with two oak leaf clusters; the Bronze Star with Combat 'V' and gold star in lieu of a second award; the Purple Heart; the Meritorious Service Medal with gold star; the Navy Commendation Medal with Combat 'V' and gold star; Navy Achievement Medal with gold star; the Combat Action Ribbon; and personal decorations from South Vietnam, France, Italy, Egypt, Kuwait, Yemen and Bahrain.
Gen. Zinni has attended The Basic School, Army Special Warfare School, Amphibious Warfare School, Marine Corps Command and Staff College , and the National War College. He holds a bachelor's degree in economics, and master's degrees in management and supervision, and international relations.
Benjamin Page is the Gordon S. Fulcher Professor of Decision Making at Northwestern University, in the Department of Political Science and the Institute for Policy Research. Professor Page received his Ph.D. from Stanford University and JD from Harvard Law School, where he studied international law. His interests include American politics and U.S. foreign policy, with particular interests in public opinion and policy making, the mass media, empirical democratic theory, and political economy. He is an author of a number of articles, including "Effects of Public Opinion on Policy" and "What Moves Public Opinion," both in the American Political Science Review, and of seven books, including The Rational Public: Fifty Years of Trends in Americans' Policy Preferences (with Robert Shapiro, University of Chicago Press, 1992), Who Deliberates? Mass Media in Modern Democracy (University of Chicago Press, 1996) and What Government Can Do: Dealing with Poverty and Inequality (with James Simmons, University of Chicago Press, 2000). His latest book (with Marshall M. Bouton)  is The Foreign Policy Disconnect: What Americans Want but our Leaders Do Not Do.
Charles L. Glaser is professor and deputy dean of the Harris School of Public Policy at the University of Chicago. He focuses on international relations, especially issues of international security and defense policy. His current policy-oriented research examines U.S. nuclear strategy and forces. Glaser has published articles on structural realism, the security dilemma, and the offense-defense balance. Much of Glaser's earlier work focused on American Cold War nuclear weapons policy. This work culminated in his book, Analyzing Strategic Nuclear Policy, which was followed by articles that assessed how U.S. nuclear policy should be modified at the end of the Cold War. Glaser, deputy dean since 1998, has served as acting dean of the Harris School and a fellow at the Center for International Security and Arms Control at Stanford. After earning his Ph.D. at the John F. Kennedy School of Government at Harvard University, Glaser was a post-doctoral fellow at the Center for Science and International Affairs, Harvard University, and a research associate at the Center for International Studies, Massachusetts Institute of Technology. Before joining the University of Chicago, Glaser taught political science at the University of Michigan and served on the Joint Staff in the Pentagon.