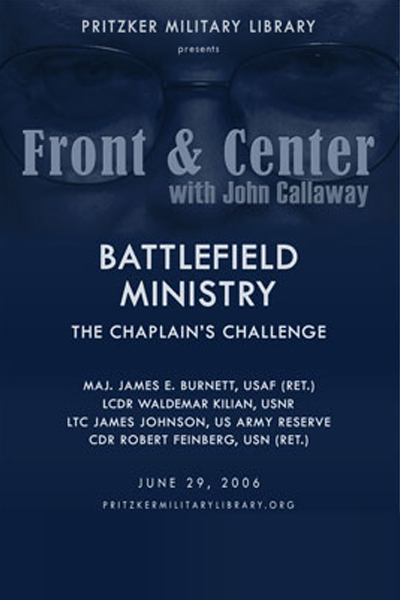 Record date:
Front & Center with John Callaway: Battlefield Ministry: The Chaplain's Challenge
The military chaplain faces extraordinary challenges. Soldiers face life and death situations on a daily basis, yet are often spiritually unprepared for the stress of battle or the sacrifices war requires. The chaplain is expected to be a religious leader, a moral advisor, and a source of comfort in the face of horrific events. John Callaway and his guests explore how today's military chaplains prepare for their ministry of service to soldiers on the battlefield and their families on base.
Father James E. Burnett is a priest of the Diocese of Davenport, Iowa, and has been ordained for 32 years. He presently serves as the Acting Chief, Chaplain Service at Edward Hines VA Hospital. Hines VA is a 472 bed acute care hospital serving the needs of veterans from the Metro-Chicago area. He is Vice President of The National Conference for VA Catholic Chaplains, and is in his second three year term in that position. In 2000 he retired from the United States Air Force Chaplaincy. In the 13 assignments during his Air Force Career, he has worked with all denominational backgrounds in a supervisory, administrative and pastoral capacity providing religious leadership to over 75,000 people throughout the world. He is a graduate of Divine Word College in Epworth LA and earned his MA in Divinity at the Pope John XXII National Seminary in Weston MA.
Lt. Col. James (Jim) Johnson, USAR served from 1971 to 1974 on active duty Army with the Old Guard, Ft. Myer, VA. In 1975 he joined the Army Reserve duty as A Combat Engineer and trained with the 11th Special Forces Group. From 1982 to 1986 he served with the Illinois Army National Guard as Senior Chaplain Assistant and in 1986 became Battalion Chaplain for 2/123 Field Artillery, 634th Forward Support Battalion (Illinois Army National Guard). He was deployed to Kosovo in 2000, Bosnia in 2001, Germany 2002, and Iraq 2005-2006. He graduated from Houghton College in 1978 with a BA in Psychology and from United Theological Seminary in Dayton, Ohio in 1982.
LCDR Waldemar A. Kilian, CHC, USN is a chaplain in the U.S. Navy Reserve and pastor at St. Bruno Parish in Chicago. Born in Poland, he joined a religious order and graduated from Angelicum University in Rome with an STB. Ordained in 1987, he worked in Italy in various ministries. Assigned to a parish in Connecticut, he obtained permission to work permanently in the US and came the Archdiocese of Chicago in 1990 as associate pastor and hospital chaplain. Becoming an American citizen, he was commissioned as a Chaplain in the U.S. Navy Reserve, completing the Chaplain School in Rhode Island. In January 2000, he was assigned to Fort MEFREL 713-Great Lakes, Illinois. In 2002, he was named pastor of St. Bruno parish. In 2004, he was mobilized to support the 2nd MARDIV and deployed to Iraq in 2005. His responsibilities included visiting and outreach to all the forward components of the force under the division command in Anbar Province.
Commander Robert Feinberg, USNR is the Assistant Rabbi at Congregation B'nai Torah in Highland Park. Previously, he spent 20 years (1984-2004) as a Navy Chaplain, retiring with the rank of Commander. He provided combat ministry during Operation Desert Storm to sailors on ships that launched aircraft and cruise missiles and to Marines during the early days of the Kurdish refugee relief operation before the cessation of hostilities.