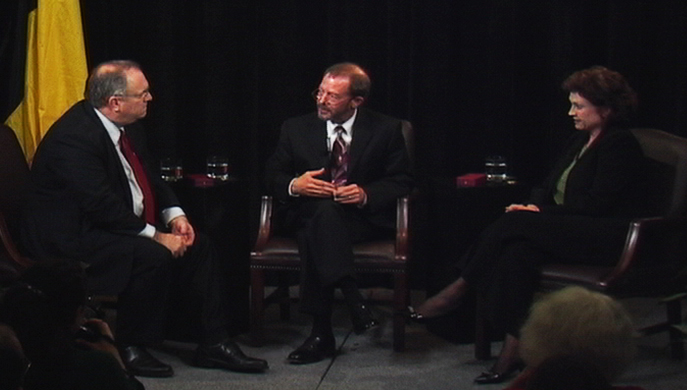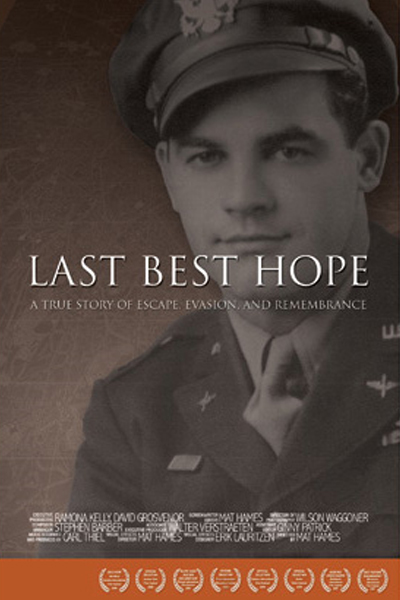 Record date:
David Grosvenor and Ramona Kelly: Last Best Hope: A True Story of Escape, Evasion and Rememberance
The Pritzker Military Library is proud to welcome executive producers David Grosvenor and Ramona Kelly for the Chicago theatrical debut of their award-winning film Last Best Hope: A True Story of Escape, Evasion, and Remembrance at the Library's McHenry Atrium.
His Majesty King Albert II of the Belgians has bestowed the decoration of Knight of the Order of the Crown on the filmmakers for their contribution to preserving the history of the Belgian Resistance during World War II. After the screening, Admiral Willy Temmerman, military defense attaché to the Embassy of Belgium in Washington D.C., and Honorary Consul Paul M. Van Halteren will present the decorations to Grosvenor and Kelly.
Recipient of audience and critical awards at film festivals around the country, Last Best Hope tells the story of Bill Grosvenor, an American pilot who crash-landed in Nazi-occupied Belgium during WWII, and the courageous members of the Belgian Resistance who sheltered him and other Allied airmen. At 80 years old, Grosvenor made an emotional return to Belgium to revisit the scene of the crash and reunite with surviving members of the Resistance.
Exhaustively researched, the film traces Grosvenor's route of escape across dangerous ground, and uses dazzling graphic effects with vintage black and white photographs to evoke the streets of occupied Belgium, breathing a profound sense of place into the testimonies of the aged Resistance members, many of whom had never before spoken about their heroic exploits. They were ordinary citizens who took extraordinary risks to fight the tyranny that had suddenly overwhelmed their lives, and with Last Best Hope, their story has finally been told - and their passion for liberty preserved for generations to come.
DAVID GROSVENOR, EXECUTIVE PRODUCER, is a life-long student of military history. As the son of the documentary's central character and research coordinator for the project, Grosvenor has steered an international group of archivists, historians, and history buffs toward the compilation of a "day-by-day" analysis of his father's peregrination within the Belgian Resistance clandestine escape and evasion organizations as well as the infiltration and decimation of the Belgian Resistance escape lines by the German Abwehr.

RAMONA KELLY, EXECUTIVE PRODUCER, cites three decades in marketing, public relations, and commercial production as the wellspring that enabled her to serve as co-executive producer of Last Best Hope. Among her roles during the film's six-year odyssey, she has planned and orchestrated three productions in Belgium; applied for more grants than she cares to recall; and conducted on-site military history and escape line research at the National Archives in College Park, Maryland.