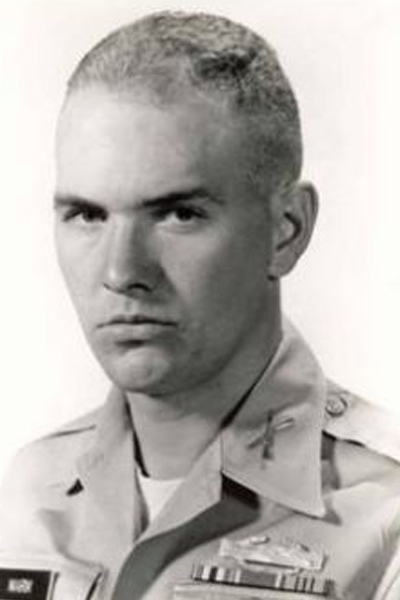 Record date:
Medal of Honor Recipient Walter Marm Interview
Walter Marm received the Medal of Honor outside the Pentagon on December 19, 1966, the first of three that were awarded for heroism in the Battle of Ia Drang.
A Pennsylvania native, Marm was assigned to the 7th Squadron of the 1st Cavalry Division and sent to Vietnam in September 1965. Two months later, on a sweep through the Ia Drang Valley, he found himself in the midst of one of the first major battles of the war – the Battle of Ia Drang, later to be chronicled in the book We Were Soldiers Once…and Young by Lt. Gen. Harold G. Moore (Ret.) and journalist Joseph L. Galloway, who were also there.
Marm's platoon from Alpha Company stopped a flanking maneuver by the North Vietnamese Army, and then moved out to rescue isolated troops from Bravo Company. On the way, they came under siege from a well-concealed machine gun. Marm stood out in the open to draw its fire – and in so doing, determine its location. But when the machine gun withstood a blast from his bazooka, Marm charged across the open ground and destroyed it up close. Having killed more than a dozen of the enemy during his one-man assault, Marm was preparing to advance even further when he was shot in the face; though MEDEVACd to safety, his jaw would take more than a year to reconstruct.
Despite his injuries, Marm was determined to serve a second tour in Vietnam, and was finally allowed to return in 1969. He retired from the Army in 1995 with the rank of colonel and now lives in North Carolina.
His Citation Reads:
For conspicuous gallantry and intrepidity at the risk of life above and beyond the call of duty. As a platoon leader in the 1st Cavalry Division (Airmobile), 1LT Marm demonstrated indomitable courage during a combat operation. His company was moving through the valley to relieve a friendly unit surrounded by an enemy force of estimated regimental size. 1LT Marm led his platoon through withering fire until they were finally forced to take cover. Realizing that his platoon could not hold very long, and seeing four enemy soldiers moving into his position, he moved quickly under heavy fire and annihilated all four. Then, seeing that his platoon was receiving intense fire from a concealed machine gun, he deliberately exposed himself to draw its fire. Thus locating its position, he attempted to destroy it with an antitank weapon. Although he inflicted casualties, the weapon did not silence the enemy fire. Quickly, disregarding the intense fire directed on him and his platoon, he charged 30 meters across open ground, and hurled grenades into the enemy position, killing some of the eight insurgents manning it. Although severely wounded, when his grenades were expended, armed with only a rifle, he continued the momentum of his assault on the position and killed the remainder of the enemy. 1LT Marm's selfless actions reduced the fire on his platoon, broke the enemy assault, and rallied his unit to continue toward the accomplishment of this mission. 1LT Marm's gallantry on the battlefield and his extraordinary intrepidity at the risk of his life are in the highest traditions of the U.S. Army and reflect great credit upon himself and the Armed Forces of his country.