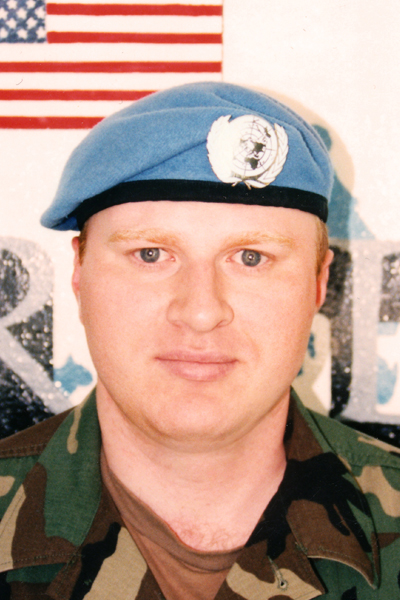 Record date:
Toni Simovski, Interpreter
Toni Simovski used his Macedonian heritage to become an interpreter for the U.S. Department of Defense.
Toni Simovski was born in Detroit, Michigan in November of 1974. In his interview, he explains moving back to Yugoslavia with his parents in 1986—a time when the country was still unstable. After returning to Michigan in 1989, he made a surprisingly smooth transition between the two cultures.
Toni never struggled academically after returning to the states—partly because he was bilingual. In fact, he really excelled in Social Studies. He also fit in socially because he was involved in a variety of sports—soccer, track and handball. He says he always planned on going to college because he did not want to struggle like his parents. He ended up graduating with honors and earned degrees in history and political science. He also wanted to get his teaching certificate to ensure he would always have that option. So, when the job offer with the Department of Defense came along, he insisted on finishing up his student teaching first. He did, however, choose the DOD job over his substitute teaching position without hesitation.
After a very intense background check and training at Fort Benning, Toni was sent to Camp Able Sentry in Macedonia. His mission—as part of the United Nations Protective Force—was to make sure Macedonia was not attacked by Serbia. One of his responsibilities included monitoring the soldiers when they went into town, to ensure their safety. He also had to mingle with the locals to get any inside information. Essentially, his job was to be the eyes and ears of the base. This put him in a challenging position because the Albanians did not trust him; the fact that he was a Macedonian man working for the U.S. made them suspicious.
Once Toni resigned, the DOD tried to get him back, but he decided to remain in teaching. He says he really encourages his students to get politically involved by voting. He discourages political apathy and wants to teach the younger generations to stay aware of what is happening in the government. He also emphasizes how much more powerful it is to hear first-hand stories, as opposed to just reading about it in a history textbook—which is why he was so happy to share his story of service.