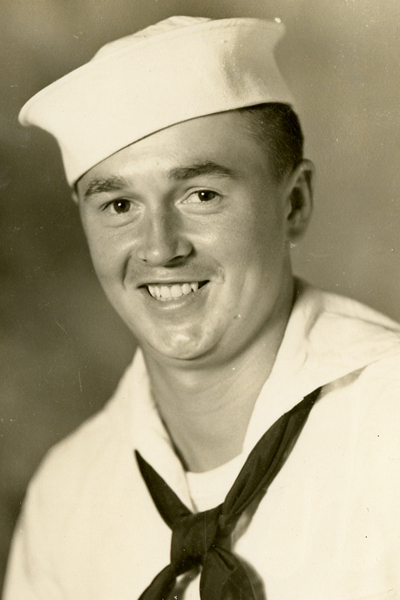 Record date:
John William "Bill" Petrisko, Petty Officer, 3rd Class
Zigzagging across the Pacific to avoid kamikazes during World War II, the small but strong minesweeper USS Steady, was lucky to count John "Bill" Petrisko, the dedicated seventeen year old, among its crew.
Growing up in the warm, tight knit community of Brownsville, Pennsylvania, John "Bill" Petrisko (born 1926) enjoyed a happy childhood, centered on family and friends, school and sports, and the Greek Catholic Church. As a consequence of the Depression, the Petrisko family relocated to Chicago, where his father found work, in 1944. 
A few months later, John was eager to serve his country and received his parents' permission to enlist in the Navy's "V6 program" which meant a commitment to active service until Victory plus six months.
After basic training at Great Lakes Camp, Petrisko was sent to Camp Bradford, Virginia where he was assigned to the minesweeper ship, USS Steady, AM-118, slated for the Pacific.
He describes the ship's journey and his experience or it, "Never seasick a day in my life". In spite of, or perhaps because of the density – 120 men lived on a 220 feet long boat, there was camaraderie: "We got along like family … you have about eight inches on a bunk bed, three bunks high and you learn to adjust."
Mr. Petrisko was initially assigned a seaman's duty maintaining the ship, but while on board, he chose to train as a mechanic in the Engine Room, in addition to his minesweeping duties.
As a minesweeper, the objective of the USS Steady was to clear the East China Sea of mines prior to the 
battleships assigned to an amphibious assault in the Battle of Okinawa. Mr. Petrisko explains: Hanging from the back of the boat was a V- shaped cable which cut the cables attached to mines planted in the sea, after their detection by sonar. The mines which tended to be six to eight feet under the surface would then float to the top. The men would then sink them by using their 40 mm gun to put holes in them.  The Japanese also used magnetic mines which attracted the metal of the nearby ships and explode them but this was countered by degauging, a process by which the ship's hull is demagnetized.
After liberation, Mr. Petrisko met his wife, Ann, at a dance – both their mothers were "Rosie the Riveters" at Solar Electric. His father and uncle too were part of the War effort, producing parts for guns when employed in Continental Can. 
Petrisko used the GI Bill of Rights to further his education as a mechanic and ensuing career was at the Gordon Baking Company and at Certified Grocers of Illinois. He and Ann brought up four children and have nine grandchildren. His sense of devotion has never left him:
"To this day, I respect the flag, I honor the flag and I love our country".