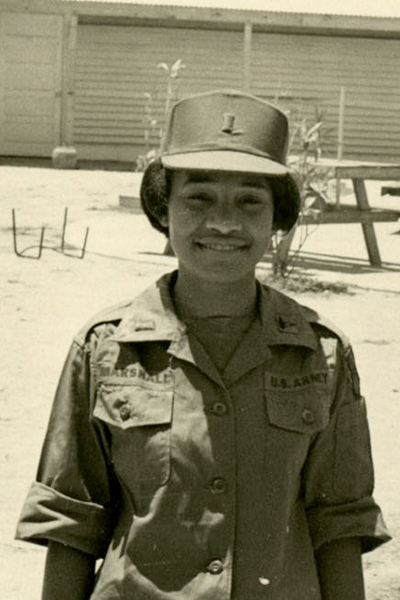 Record date:
Diana J. Ramsey, 1st Lieutenant
Diana J. Ramsey served in the U. S. Army Nurse Corps as an Operating Room Nurse with the 67th EVAC in Qui Nhon, Vietnam from 1967 to 1968--including during the Tet Offensive.
Diana J. Ramsey was born on June 21, 1945 in Kingston, Jamaica prior to the island's independence from the United Kingdom. In 1955, at the age of 10, her family immigrated to the United States so that the kids could receive a good education. They relocated to Connecticut, joining family already established there. The education Ms. Ramsey recieved was part of the reason she was compelled to go to school to be a Nurse. In 1963, she graduated high school and enrolled in the Nursing Program at St. Francis College in New York. After completion of the program, she joined the Army--following in the footsteps family that served in the British Military, and an older sister who had already joined the U. S. Army.  
Ms. Ramsey reported to Fort Sam Houston, Texas, for Basic Officer Training in 1966. Upon completion of Basic, she was assigned to Letterman Army Hospital in San Francisco for Advanced Operating Room Nurse Training. While she was slated to be stationed at Ft. Riley, Kansas, after that training,  she was actually mobilized to the 67th EVAC Hospital in Qui Nhon, Vietnam as an Operating Room Nurse in 1967.
During her time there, Lt. Ramsey was promoted to the Assistant Head Operating Room Nurse. She also assisted the 67th EVAC Hospital in Pleiku, Vietnam. In the OR, she assisted in countless surgeries for the causalities that were brought to the Hospital, tending to wounds sustained in battle. Ms. Ramsey uses her Oral History Interview to discuss many of the experiences she had during this time of her military career.
After Vietnam, she was transferred to the Army Hospital at Fort Belvoir, VA, where she worked as a Nurse at the Pediatric Unit before being discharged from the Army in 1968. In 1969, she married her husband, who she met while stationed at Qui Nhon. Her husband was one of the Anesthesiologists based there as well. They settled in Kansas City, MS, where he completed his OB/GYN residency and she continued to work as an Operating Room Nurse. They would later settle permanently in the Houston, Texas area, were she would continue to work in the Operating Room and assist her husband in his OB/GYN practice. She used the skills she learned in the most extreme of environments to continue to show the compassion for her patients at the University of Texas, MD Anderson Cancer Center in Houston.