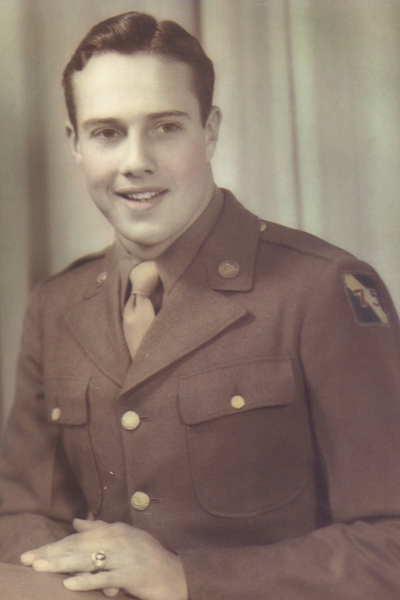 Record date:
Senator Bob Dole Interview Transcript
Robert "Bob" Dole, 2nd Lieutenant
There is no doubt that Senator Bob Dole will always be known for his service to his country; however, most only consider the work he has done through various levels of Government, not realizing that Senator Dole also served in the U.S. Army during WWII, fighting in Italy with the 10th Mountain Division, where he was severely wounded by the Germans.
Senator Bob Dole's lifetime of public service began with his enlistment in the United States Army during World War II. He was born in Russell, Kansas, on July 22nd, 1923. He graduated from Russell High School in 1941, and enrolled into the University of Kansas to pursue an undergraduate career on the pre-medical path. His university studies, however, were interrupted by his military service during WWII.
After training for nearly ninety days at from Fort Benning, Senator Dole left for Europe from Fort Meade in Maryland. Dole served mostly in Italy as a 2nd Lieutenant with the 10th Mountain Division. Senator Dole served under a group of experienced superiors, and cites in his oral history interview that it was these friendships formed during his service which helped build trust and alleviate intimidation. One individual specifically mentioned is Frank Carafa who rescued Senator Dole from danger after he was hit by a German.  Senator Dole also recalls being marked with an "M" on his forehead— with his own blood—by a fellow GI to signify to the medics who later found him that he had already received one dose of morphine. Senator Dole was shot in the shoulder, suffered from spinal cord bruising, and lost a kidney. He was hospitalized for over a year, and during this time met future Senators Dan Inouye and Phil Hart.
In his interview, Senator Dole describes Eisenhower as a hero and comments on mourning the loss of President Franklin Roosevelt from overseas. Senator Dole served in the Army from 1942 until 1948, receiving the Purple Heart and a Bronze Star for his service, in addition to the American Campaign Medal, European-African-Middle Eastern Campaign Medal, and the WWII Victory Medal and the Combat Infantryman Badge (CIB). Senator Dole recounts his WWII experience in this oral history interview, but also goes into much more detail in his 2005 autobiography One Soldier's Story: A Memoir.
After ending his military career, Senator Dole began his public service as a legislator. He ran and was elected first to the Kansas House of Representatives in 1950. This began a long career in governmental work, including service in the United States House of Representatives from 1961-1969, as well as the U.S. Senate from 1969 to 1996, where he was both the Senate minority and majority leader. Dole also ran for Vice President with President Gerald Ford in 1976 and for President in 1980, 1988, and 1996.
In addition to his military honors, Senator Dole is a highly decorated citizen. In 1989, he received the Presidential Citizens Medal from President Ronald Reagan, the Presidential Medal of Freedom from President Bill Clinton, and numerous other honors.