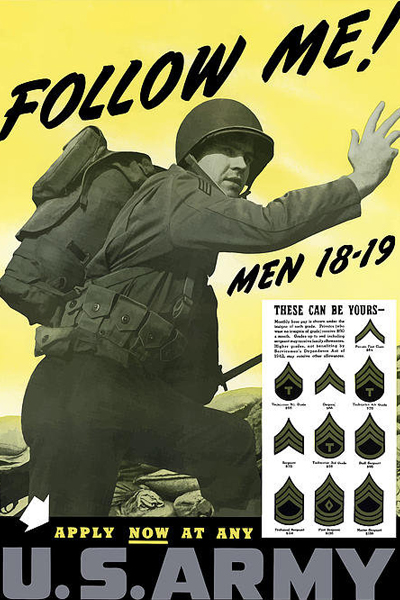 Record date:
Bobby E. Southard, Sergeant
Bobby Southard initially served with the U.S. [Army*] Air Force during World War II as a Bombsight Operator and Mechanic, before becoming part of the Army's 66th Infantry Division, where he guarded a War Criminal stockade in Austria.
Bobby Southard was born in 1923, in Indiana.  In his interview, he describes what it was like to grow up on a farm in the small town of Anderson, Indiana, during the Great Depression. From an early age, Mr. Southard worked hard on the farm taking care of the animals and maintaining the garden.  His father's job, and their healthy garden, allowed them to live comfortably, despite the struggles the economy faced during that time.
Along with the motivation of having friends in the military, Bobby's interest in airplanes inspired him to join the Air Force. In fact, Mr. Southard became the first in his family to join the armed forces.  Almost immediately after enlisting, he was sent to Florida for basic training.  In the U.S. [Army] Air Force, Mr. Southard worked on the Sperry Bombsight, where he worked with automated technology that allowed pilots to drop a bomb in a precise location, at a specific time. 
Mr. Southard's duties included upkeep and repairs of the bomb site.  He explains his fascination with the complexity of the equipment, and shares how he used to study the bomb on his own time, just to ensure he knew how to take care of it.  He also instructed one bombsight training course during his time with the U.S. [Army] Air Force.  His captain wanted him to stay, but Mr. Southard's desire to be overseas drove him to reenlist in the Army.
In order to be sent overseas, Mr. Southard knew he had to join the Army.  He went to college for a semester in Colombia, Missouri before reenlisting.  After another round of basic training, he joined the 66th Infantry Division.  Shortly after being sent to Europe, his division lost 1,100 men in a ship that went down during the Battle of the Bulge.  Due to the shortage of people, his division was no longer suitable for combat, so they were sent to Austria to guard the War Criminal stockade.  He loved the people he met in Austria, and has been back to visit several times with his wife.
Mr. Southard's service in the Army lasted about a year and a half.  After the war, he became a salesman for a couple different companies, where he sold things like medical equipment.  He is still in touch with the people he served with, and is an active member of the Veterans Affairs organization.