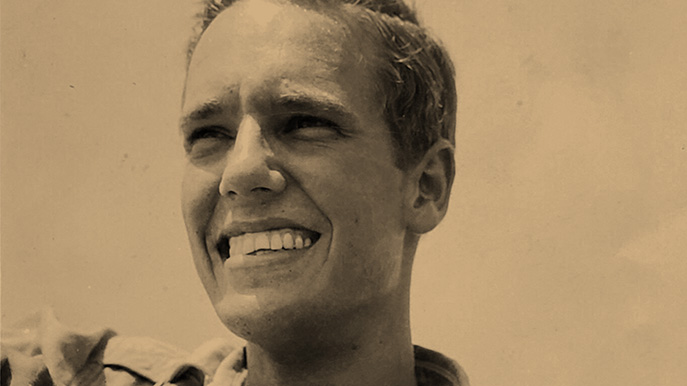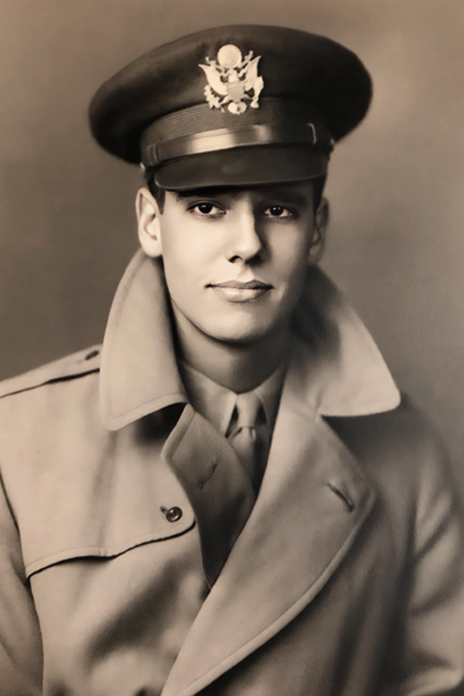 Record date:
Armiger Jagoe, Lieutenant
He remembers the beauty of the places and the people more than the deadly battles that took place in the air. Lieutenant Armiger Jagoe grew up amid the Great Depression in Gulfport, Mississippi with his mother, father, and older sister. His father had taken a position as the Head of the Division of Currency in Washington, DC, and thus was able to support the family. The rest of the family supplemented it by taking on odd jobs and were thus able to ride of the worst of those years.
Through the influence of his uncle, and lenient entry requirements for students from certain regions in the US, Jagoe was able to attend Harvard University. While admittedly not extremely dedicated to his studies, he made many friends, met the likes of poet Robert Frost, and was able to act on his childhood fascination with airplanes. He learned how to fly small propeller planes at a beach. After the fateful attack on Pearl Harbor in 1941, he shared in the nation's collective shock, but had been aware of the encroaching specter of war such due to "Lights Out" protocols on the Eastern Seaboard implemented to counter the threat of German submarines. Jagoe and his friends had met Prime Minister Winston Churchill leaving the White House, after a meeting to persuade the U.S. Government to join the war.
It had left a sense of responsibility in him, that would in part encourage him to enlist. Armiger chose to join the Army Air Corps Glider Division -- airborne infantry operations intended to insert personnel and supplies behind enemy lines -- as they had great incentives. After enlistment, he was initially sent to Langley Field, Virginia before being trained in Tucumcari, New Mexico in small sixty-five horsepower Aeronica planes out in the desert. The next stage of training in advanced gliding took place in Kirkland Airfield in Albuquerque, New Mexico. However, due to the high risk of the glider accidents, the Air Force cut the  program and Jagoe was switched to training as a navigator and bombardier.
This new initial training took place over six months and would have recruits fly cross-country at both day and night-time, utilizing traditional navigation methods as well as training to use the Norden bombsight. This was a recent improvement that greatly increased the accuracy of aerial explosives, utilizing new computing technology. After this, gunnery training took place over two weeks in the Arizona desert, and instructed trainees in the use of firearms on the ground and in the air.
In December of 1944, Jagoe graduated from training as a 2nd Lieutenant. His group was transported down to Greenville Airbase in South Carolina to be sectioned into crews and train of medium range bomber aircraft, before being sent down to Palm Beach, Florida to be assigned their own B-25 bomber plane. Generally, crews were composed of five to six men that included a pilot, an engineer/gunner, radio operator/gunner, tail gunner. Crews then would take their new aircraft down through South America, and out over the Atlantic to Africa.
Jagoe's plane had multiple issues en route so they had to make multiple landings to try and figure out the problem. They stopped first in Natal, Brazil, but mechanics there sent them onto Ascension Island. Jagoe had to navigate without radio to the US Air Force base on the island, but the mechanics there, too, had no solution.  The plane limped onward to the Georgetown Base in Dakar, Senegal and the issue was finally determined to be metal fillings in the oil. Being a possible subterfuge, the plane was put out of commission. Jagoe's crew was grounded till a new engine came in. Armiger embraced the exhilarating culture and life of the city entirely, but was caught forging a pass, and thus found transport for himself and his crew out of Senegal to Casablanca, Morocco. After waiting two weeks for reliable transportation, and they arrived at Foggia Airfield in Naples, Italy, where they were given a new B-25 dubbed the "Bouncing Bachelor."
The crew as assigned to 310th Bomb Group out of Bastia Airfield on Corsica, a small island off the western coast of Italy. The populace had already undergone multiple invasions and suffered the effects of war. Nonetheless, Jagoe would befriend a local family, particularly one of the sons, with whom he would enjoy a friendship for the next four decades. His crew would take part in seventy-four missions in total, a record at the time and they would take part in missions all over Italy and as a part of Operation Anvil in Southern France. This included the bombing of the Brenner Pass between Italy and Austria, through which German forces rain a supply line, and the battle of Monte Cassino in 1944, in an effort to force German forces north, away from Rome. During such engagements, Jagoe would inform the pilot on direction and ground speed when nearing a target, and the timing of bomb drops based on that navigation to effectively hit the mark. Then he would direct evasive action away from resulting opposition forces. This wouldn't happen without incident, and it would prove to be a hellish experience. From metal flak nearly hitting them through the bay doors, to the near sacrifice of his crewmate Jerry Barron, it was often a close-run thing. Jagoe would record his missions in letters and personal records as well as in his memoir, Southern Boy Grown Up. The 428th Squadron of which Jagoe's Bomb Group was a part would participate in the Normandy Invasion. After his 74th mission in the spring of 1945, he spent two weeks in traveling in Italy and then was able to return to the States on a passenger plane.
He returned to Washington and to his former place of work, Hartford Insurance. A couple of years later, he started his own insurance company that would become very successful. Jagoe had married and e and his wife would raise four children together. 
All in all, he would more remember points of light such as the many individuals from disparate walks of life with whom he would make a connection such as his crewmates and the locals. He even formed a friendship with stray dog he'd fondly dubbed, "Sally." While there are memories that Armiger Jagoe generally prefers not to recount, they were a part of a life he feels is full.