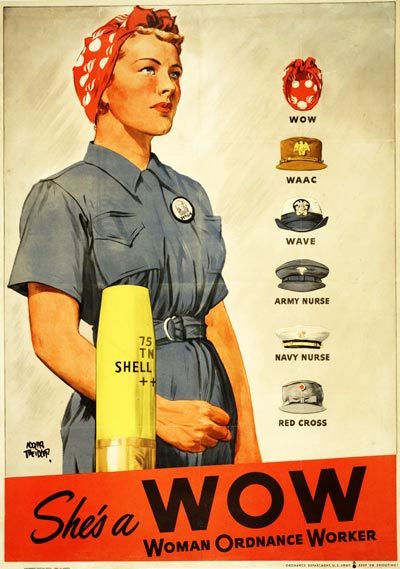 Sep 07, 2012 - Apr 11, 2014
She's a WOW: Women's Service Organizations in World War II
This exhibit, which ran from September 2012 to April 2014, explored the myriad of unique ways women contributed to the war effort outside of the home.
Drawn from the collections of the Pritzker Military Museum and Library and the Veteran's History Project of the Library of Congress, the exhibition delivered the story of women service organiazations and shared first-hand experiences of women during the war effort who helped usher in a new era of women's rights in the United States.
Women served their country in a variety of roles. They served as entertainers with the USO, as nurses with the Red Cross and the Nurse Corps, and in a kaleidoscope of new organizations—as members of the Women's Auxiliary Corps (WACs), (Women Accepted for Voluntary Emergency Service (WAVES), Women Airforce Service Pilots (WASPs), U.S. Coast Guard Women's Reserve (SPARs), and in industrial roles as Women Ordnance Workers (WOWs)—the origin of the iconic image of Rosie the Riveter.
She's a WOW: Women's Service Organizations in World War II was on display in the second level gallery of the Museum & Library.  Curated by the librarians and collections staff, the multimedia exhibit included prints, recruiting posters, photographs, and other media—and allowed the women who served their country to share stories in their own words, with printed first-person accounts and an audio tour featuring the voices of the women themselves.
View Items From the Exhibit