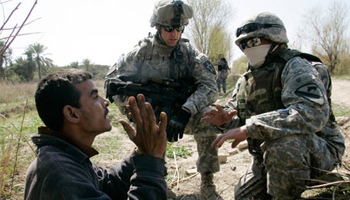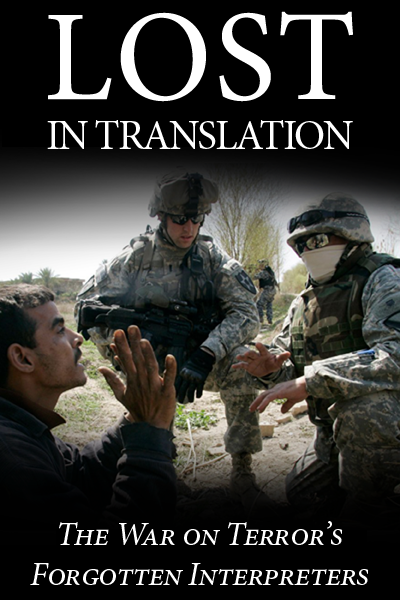 Record date:
Lost In Translation transcript.pdf
Lost in Translation: The War on Terror's Forgotten Interpreters, with 
Becca Heller, 
Erik Malmstrom, Khalilullah Farshad Yewazi, and Brigadier General Craig E. Bennett
An incisive panel discussion on the indispensable and often under-appreciated role played by foreign interpreters during America's war on terror, and the significant challenges faced by these allies in their post-war lives; with former United States Army Infantry Officer Erik Malmstrom, former Afghan interpreter Khalilullah Farshad Yewazi, and Iraqi Refugee Assistance Project Director Becca Heller; moderated by Brigadier General Craig E. Bennett, New Hampshire Army National Guard ATAG. Sponsored by the Robert R. McCormick Foundation and the Chicago Council on Global Affairs, with additional support from IRAP.
Among the bravest and most important American allies in recent memory, the interpreters who have supported U.S. operations in Afghanistan and Iraq during the War on Terror have played a vital role in educating American troops on local customs and geography, gathering intelligence by interviewing locals and living among natives, and even supporting combat operations. In most cases, these "terps" (as they are affectionately known) volunteered their services for little to no pay, instead banking on the promise of helping to end a war and receiving U.S. protection and asylum for their families. And yet, the service and sacrifice of the post-war interpreter has largely gone unaddressed in the U.S., and their roles unknown to the American public.
Hunted and killed by rebel groups and mistrusted by government sympathizers for helping the American cause, these interpreters are often faced with serious threats to their families and personal security at home, but are encountering significant obstacles and delays in receiving the promised U.S. government immigration assistance. In fact, only a fraction of Special Immigrant Visas have been issued to former interpreters despite existing federal legislation, passed with bipartisan support.
So as we move further away from the wars in Afghanistan and Iraq, how do we help those who helped our troops? And what might the repercussions be for our nation's failure to follow through on these promises?
BECCA HELLER is the director and co-founder of the Iraqi Refugee Assistance Project (IRAP), an organization that has successfully resettled more than 2,000 refugees in life or death situations, including Iraqis and Afghans at risk for their work as interpreters with the U.S. military. Heller is also a visiting clinical lecturer at Yale Law School.
ERIK MALMSTROM is a former infantry officer in the United States Army and a graduate of Army Ranger, Airborne, and Winter Mountain Warfare schools. During his distinguished service, Malmstrom received the Bronze Star for outstanding combat service for his role as a rifle platoon leader in support of Operation Enduring Freedom VII. He is currently a business development manager for Cargill.
KHALILULLAH FARSHAD YEWAZI worked as an interpreter for the United States Army throughout eastern and central Afghanistan from 2006 to 2009. He served with distinction in some of the most volatile regions of Afghanistan including the Korengal, Pech, and Waigul Valleys in support of the 10th Mountain Division, 173rd Airborne Brigade, and 1st Infantry Division. With the assistance of IRAP, he came to the United States on a Special Immigrant Visa in August 2014.
BRIGADIER GENERAL CRAIG E. BENNETT, Assistant Adjutant General, New Hampshire Army National Guard, will lead this discussion and serve as moderator. A graduate of Bryant University, the Widener University School of Law, and the Army War College, General Bennett received his commission through the ROTC in 1989, serving more than six years active duty on assignments with the 2nd Infantry Division in South Korea and Fort Dix, New Jersey before entering the Army Reserve and serving multiple assignments related to his background in law. A decorated veteran of Operation Iraqi Freedom, Bennett is vice president and associate general counsel at Recycled Energy Development, LLC in his civilian career.