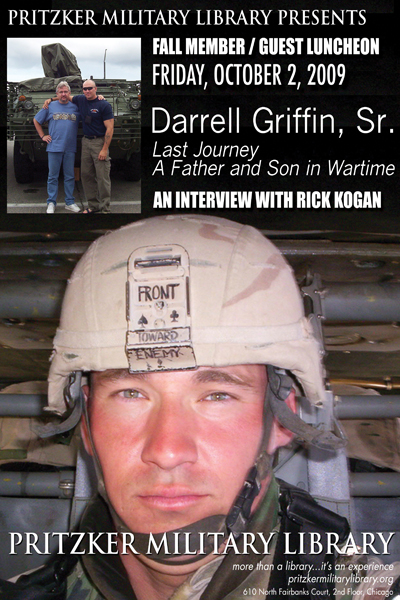 Record date:
Darrell Griffin, Sr.: Last Journey: A Father and Son in Wartime
Their book began as The Great Conversation – a father and son chewing over life, faith, and philosophy, debating the reasons behind the war in Iraq and discussing the situation on the ground there. But with a sniper's bullet, the book became a father's Last Journey with his son.
Staff Sgt. Darrell "Skip" Griffin, Jr. was a selfless leader and a rare intellect, widely read in history and philosophy, but possessed of a lifelong restlessness. He devoured Plato's Republic at 13, dropped out of high school, washed out of the Army for fighting, and did a stint in rehab; he found the focus to stay clean through love and books, continuing his search for truth through Calvin, Nietzsche, and Kierkegaard, and re-applied for the Army in May 2001. During his three tours of duty in Iraq, Skip earned the Purple Heart and the Bronze Star with Valor. On March 21, 2007, a few days after turning 36, he was killed on patrol in Sadr City.

Skip's voice appears in Last Journey through letters, emails, journal entries, and photographs, trying to make sense of the destruction he saw, and working through his own despondency about whether the invasion could justify the suffering it had brought into the Iraqis' lives. In order to better understand what his son experienced, Griffin petitioned the Army for permission to visit Baghdad. Through interviews with members of Skip's battalion and his own memories of a beloved, lost son, Griffin creates a portrait of everyday life for soldiers on duty in Iraq – doing the job no matter what, regardless of the mission, and bearing a painful weight that too few can understand.

Darrell Griffin, Sr. is a certified public accountant, now retired, who divides his time as a consultant to small businesses and as a writer. Last Journey is his first book. He lives in Southern California.

Rick Kogan is a senior staff writer and columnist for the Chicago Tribune Sunday Magazine, and host of the popular WGN-AM Sunday Papers radio program. He is the author of several books, including Sidewalks: A Portrait of Chicago, a collection of his columns with photographer Charles Osgood.