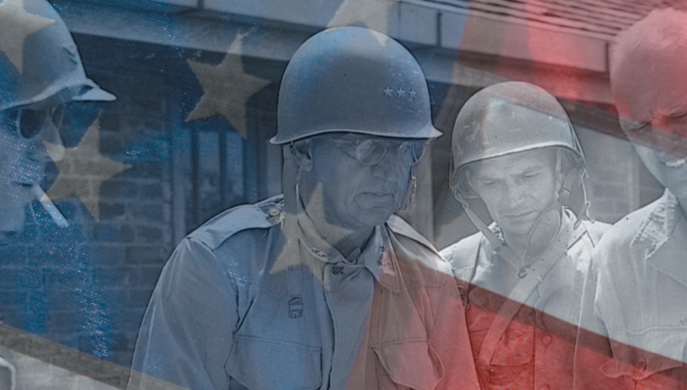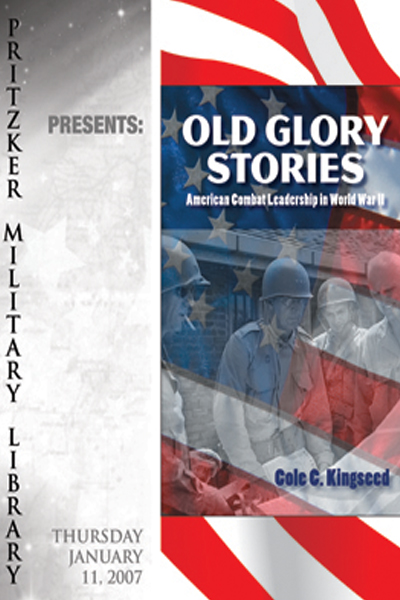 Record date:
Cole C. Kingseed: Old Glory Stories: American Combat Leadership in World War II
Saying that no generation of Americans has produced a finer array of combat commanders than that of World War II, a thirty-year army veteran examines combat leadership throughout the war at every level of command in the U.S. Army. The author argues that although Army chief of staff George C. Marshall's organization and training policies were indispensable, the ultimate victory was the result of spirited leadership and the undaunted courage of those who served, from individual riflemen to the upper echelons of army command.
Rather than a history of battles and campaigns, this book is an analysis of leadership in combat over three continents and across two oceans. It looks at how soldiers react in war -- how sergeants, lieutenants, captains, and generals direct soldiers in the most intense of all human dramas. The first part focuses on the generals and takes a thematic approach, examining such topics as restoring the fighting spirit and analyzing the unique characteristics required to command special units in combat. The second part examines a special breed of junior leaders who fought the German and Japanese armies on the front lines and whose contributions merit attention. Like war correspondent Ernie Pyle, Kingseed includes both the big and the little to offer a balanced view of what makes a good combat leader.

Cole C. Kingseed is a thirty-year Army veteran who served in a variety of command and staff positions. He earned his M.A. in national security and strategic studies from the U.S. Naval War College and his Ph.D. in history from Ohio State. He taught at West Point, where he served as chief of military history for four years. Kingseed is the author of thirty-seven articles on corporate and military leadership and such books as Eisenhower and the Suez Crisis of 1956 and Old Glory Stories: Combat Leadership in World War II. He is president of his own leadership consulting firm, The Brecourt Leadership Experience, Inc., whose clients, to name a few, include General Electric, FreddieMac, International Paper, and Bayer Corporation.