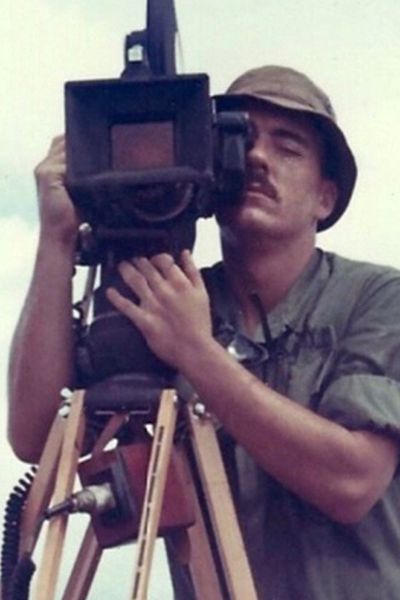 Record date:
Stewart Barbee, Specialist 5, DASPO (Department of the Army Special Photographic Office)
Stewart Barbee's career in the film has stretched from the Vietnam War to Star Wars.  His work with the Department of the Army Special Photographic Office [DASPO] prepared him for a long and established career in Hollywood. Yet Barbee was not blinded by the limelight. "I knew there were no heroes in Hollywood for me. I'd seen them all in Vietnam."
Stewart Barbee was born in Portsmouth, Virginia in 1946 and shortly afterward, the family moved to Encino, California. In spite of being in contact with families in the film world it was in Kernville, the little town, in the southern Sierras, near Sequoia National Forest, where the family moved, that Stewart's interest in photography was sparked. The captivating lighting effect of long shadows on the side of the mountain as well as his father's darkroom, in the garage did its magic.
After both studying photography in high school and junior college, Barbee enlisted in the US Army in May, 1967 in order to cultivate his craft. After studying at Fort Monmouth, New Jersey, he was assigned to learn the art of motion pictures at the Army Pictorial Center in New York. He served as a cinematographer for DASPO from May of 1969 to January of 1970, where he worked on training films and documentaries throughout Southeast Asia.  Barbee credits DASPO not only for training incredible photographers and filmmakers, but also for its tireless documenting historical events, "There probably isn't anything that happened on the planet between 1962 and 1974 that we weren't present at." His most difficult assignment was at the US Army Mortuary, in Saigon, where he created training films for the mortician's school at Fort Lee, Virginia.  He also talks about the immediate effects of this gruesome assignment on him, where he sought physical/spiritual cleansing in a local bath house or played guitar on the roof of the villa, where the photographers were housed in Saigon and where film was shipped or re-supplied.
Both sensitive to people as well as to aesthetics, Barbee tells the story of how he recorded the moving singing of Deeb, the young girl who kept true to her traditional Vietnamese culture, whom he heard at a bar in Saigon.
Barbee cherishes his DASPO Award for Excellence for his film documenting the surgeons in the 3rd Field Hospital in Saigon, who, out of the goodness of their hearts volunteered their surgical skills to Vietnamese in need, on their off time.  Correcting a cleft lip on an ostracized village girl is but one example. He hopes that this counters the harsh perception of the American soldier in Vietnam. Barbee also merited an Army Commendation Medal for his work in Vietnam, specifically with the Peers Commission. 
After his time in DASPO, he worked for three decades in Hollywood as a cameraman, cinematographer, and special effects cameraman in movies in addition to television. He worked with many of the greats of film, television, and popular culture during the late twentieth century, including Tom Petty, Flip Wilson, and Walter Cronkite.  As a camera man operator, he filmed two Clint Eastwood films, The Dead Pool and True Crimes with Clint Eastwood, three Star Trek movies, The Right Stuff, not to mention the famous Star Wars: Episode VI Return of the Jedi. One personal highlight was working on a film with iconic actors of the Golden Age of Hollywood, Bette Davis and Jimmy Stewart. He retired in 2000.  
To learn more on DASPO, see the program, Capturing the Faces of War or the exhibit: Faces of War: Documenting the Vietnam War from the Front Lines.