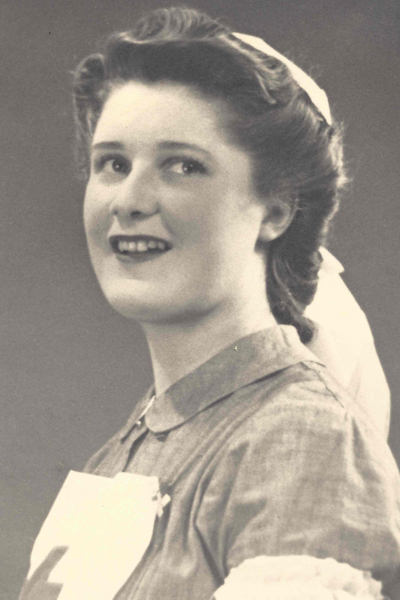 Record date:
Betty Cranmer, UK Royal Air Force Nurse
As a mere teenager during the Second World War, Betty Cranmer would aid in the recovery of severely burned patients, typically pilots, but not exclusively. She would serve under the guidance of Sir Archibald McIndoe, a pioneer in the plastic surgery, and reconstructive surgery world. During her time of service, Cranmer would come in contact with armed forces and civilian casualties, as well as experience face to face contact with German planes during the Battle of Britain. She would meet hundreds of servicemen, listen to them, and learn their stories. Her experience, in effect as a nurse, provides a unique insight into the medical and home side of the war. 
Betty Cranmer was born on August 29, 1921 in London and was raised in the outskirts during the interwar period. She originally had an interest in working with children, but after graduating from a technical high school would instead begin work as a volunteer nurse at a local hospital working with burn victims. During the Battle of Britain, her family retreated out of London and into the countryside. With the outbreak of the war, she enlisted in the Royal Air Force. She did her basic training at Blackpool in Northern England. Although she aspired to service in the medical field on air bases, she was sent to the Queen Victoria Hospital in East Grinstead, Sussex that specialized in treating burn victims. She would take care of patients daily, giving them brine baths, re-bandaging their wounds, and taking them out for walks in town. On one such trip, with an American pilot, Frederick "Henry" Mahn flying for the Canadian Air Force she would take him to the cinema, and on their way back would encounter a German bomber - his survival is evocative on "The Life of Pi". This American would later propose to her, and the two would marry in 1944.  The couple would have two kids before he succumbed to war related injuries in 1946. Betty would move to Colorado in 1946 to live with her late-husband's family. There she would remarry and have four more children. In addition to raising her family, Cranmer would work as an assistant kindergarten teacher. Faith has played a significant role, of the lives of Betty and her late husband, Chappell Cranmer, who was a man of the cloth. She has also recounted her experiences in, "Journey to Joy: A Memoir".