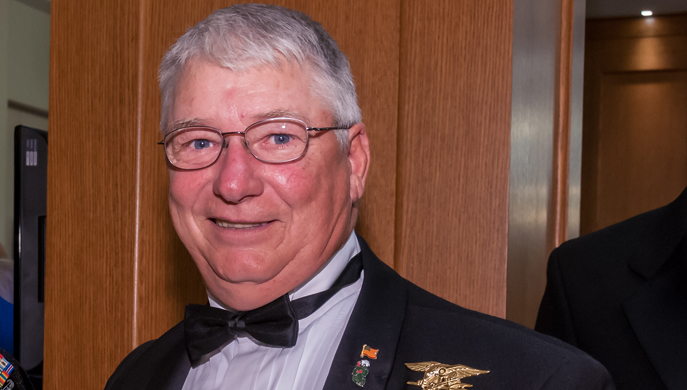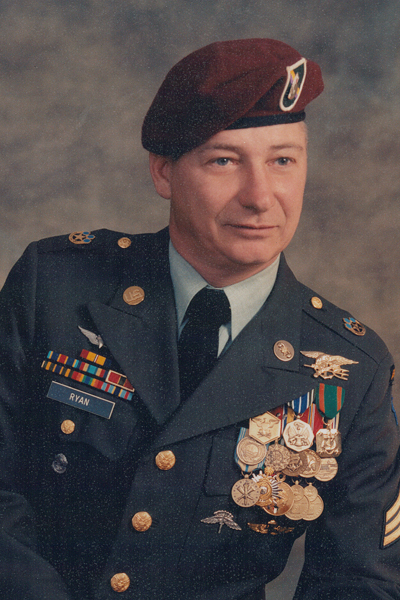 Record date:
Michael D. Ryan, E-5
In support of the Museum & Library's SEAL The Unspoken Sacrifice exhibit, Mike Ryan shares his experiences over the course of 40 years in the military—including training and graduating with the first BUD/S class to receive the SEAL Trident, operations in the Mediterranean and later in Desert Storm/Desert Shield, and how training under the toughest mental and physical extremes forges the strongest sense of brotherhood among an elite group of soldiers.
Born in 1950, Michael D. Ryan first resided on the West Side of Chicago until moving with his family to the Village of Oak Park at the age of 6. Raised in a large Irish-Catholic family, he graduated from Oak Park and River Forest High School, knowing the likelihood that he would be following his father, a 1st Sergeant who was at the Battle of the Bulge, into the military.
Being of draft age during the Vietnam War, and seeing what was happening abroad on the nightly news broadcasts, Ryan started researching the different branches of the military in hopes of hooking up with, in his words, "the biggest, baddest bunch of guys I could be with, that I could count on." A chance encounter with a Navy recruiter at the local Post Office lead him to pursue the Navy SEALs upon being drafted into the military in 1969.
In his oral history interview at the Pritzker Military Museum & Library, Ryan details what the training was like for SEALs class 48E—including BUD/S (Basic Underwater Demolition/SEAL) Training and Hell Week. He discusses what it was like to be one of the last winter classes, and how the conditions common to the Great Lakes area during that time of year played a particular role in his training.
Ryan also explains why, following his class, the Navy did away with different insignia and implemented the Trident—a powerful emblem that we know today, more than forty years later. After completing his training—which also included first aid, parachute rigging, and underwater breathing techniques—Ryan was deployed to the Mediterranean.
After serving in active duty, Ryan remained on inactive reserves, and then switched to active reserves once that option became available for Navy SEAL team members. He entered active duty again during Operation Desert Storm/Desert Shield, being assigned to an Anti-Terrorism Team with Commander Naval Logistical Support Force out of Bahrain moving medical personnel up and down the Arabian Coast into Saudi Arabia.
His desire to serve his country never wavered—even when the U.S. Navy told him to retire after Desert Storm/Desert Shield. When he received that notice, he walked down the hall and joined the Army reserves, working his way back up to his previous rank after changing branches of service. He became a sergeant with the Nuclear, Biological, Chemical Warfare department of the Army's Special Operations and officially retired in 2010.
While Ryan does recount a few personal experiences during his time with the SEALs, this oral history interview is unique in its detailing of what the members of SEAL teams endure, both physically and mentally, in preparing for missions most of us will never hear about. Recorded in conjunction with the Museum & Library's SEAL The Unspoken Sacrifice exhibit, Ryan puts a voice to what it means to be in that Brotherhood in hopes that our larger community will better understand and appreciate service that's often overlooked.