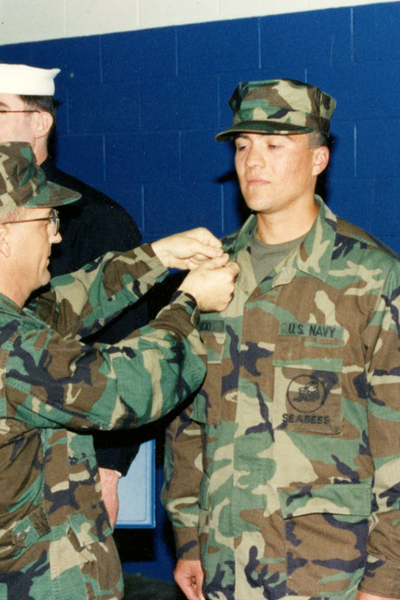 Record date:
Leonardo Lucio, E-6
Leonardo Lucio did not join the U.S. Navy knowing that he would serve during wartime; nor did he think he'd see such historical changes to policies like Don't Ask Don't Tell during his lifetime. And yet these are just two of the experiences that Mr. Lucio recalls during his oral history interview, as a part of the Pritzker Military Museum & Library's Stories of Service.
Leonardo Lucio was born September 11, 1972 in Chicago Heights, Illinois.  His family had a history of working with the railroad: his father worked for the Union Pacific Railroad, and his grandfather and younger brothers also both worked for the railroad. Coming from a big family—his father was the oldest of 13 kids; his mother the youngest of 8— Mr. Lucio remembers fondly his father taking him and his siblings to Mexico every couple of years to get to know their extended family and to learn the language—and these visits may be one reason Mr. Lucio had learned to love to travel. Mr. Lucio attended Bloom High School, where he participated in tennis, swimming, and was a member of the Glee club. Because he wasn't sure what he wanted to do after he graduated, he listened to the different military recruiters that came to his school, only to find that the Navy offered him something he really wanted. "Key word: Travel. That's what I wanted to do; I wanted to see the world." Identifying a career path was something else Mr. Lucio remembers about his recruiting experience: he didn't really know what he wanted to do in the Navy.
Because he didn't know anyone in the service prior to joining, he didn't have any previous exposure to military occupations.  As a result, he signed up to be a deck seaman. After basic training, Mr. Lucio went straight to his first ship the USS Oldendorf (DD-972) as an undesignated seaman—only to find himself being sent to the middle of a war zone. The USS Oldendorf, home ported in Yokosuka, Japan was forward deployed as part of the Midway Battle Group in preparation for Operation Desert Storm. Mr. Lucio recalls patrolling the waters of the Persian Gulf with the Midway Battle Group.  "It was in the height of the war so when the Iraqis were burning the Kuwaiti oil fields we could see the oil fields burning.  We could smell it.  We could see it in the water.  We were that close."  As an 18 year-old deck seaman he remembers his thinking at the time: "…I do not want to be here and I do not believe in war.  But I had no choice.  I signed up.  I raised my hand and I had to fulfil my duty." It wasn't until later in his tour onboard the Oldendorf that Leo was allowed to "strike" for a rating outside of the arduous deck department.  As a deck seaman in 1st division he was exposed to various jobs in the Navy and he got lucky in discovering the rate of Postal Clerk.  It was in this rate where Mr. Lucio found his calling in the Navy. 
Today Mr. Lucio is part of the Navy Funeral Honor Guard, after Congress passed legislation providing every U.S. military veteran the ability to receive a funeral with military honors in 1999.  Mr. Lucio performs 3 to 4 funerals per week on average.  Over the last 14 years he has performed close to 2,000 funerals with honors.  He loves doing it and considers it not only a part of his naval career, but part of who he is – it has been a truly rewarding experience.  
Mr. Lucio also uses his oral history interview as an opportunity to discuss life in the Navy before and after the policy Don't Ask, Don't Tell.  As a sailor who lived during this period in the military, Mr. Lucio is proud to have served as a gay sailor and wants to share his story with the veteran community.  Today, Mr. Lucio is proud to list both his partner and their adopted baby boy as his dependents – a benefit only previous enjoyed by heterosexual couples. Mr. Lucio continued to serve all of these years because he wanted to know what it was like to be in uniform and be "out" – not have to hide his identity.