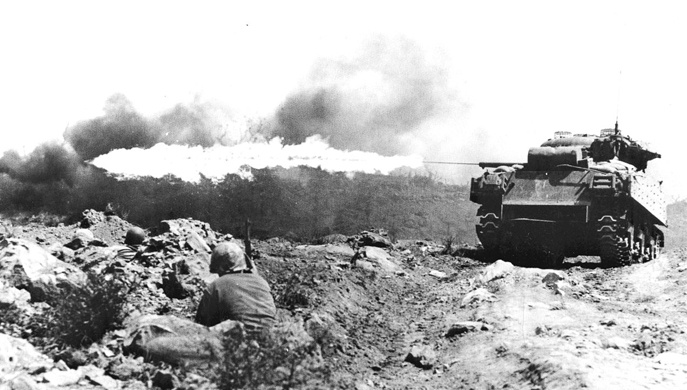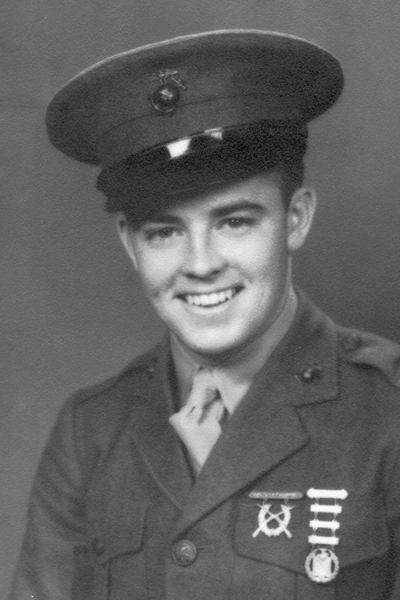 Record date:
Lawrence F. Kirby, Sergeant
Like so many others that felt it was a matter of duty to enlist in the military during WWII, Larry Kirby joined the Marine Corps, becoming a Communications/Scout with the 3rd Marine Division as it island hopped its way through such places as Guam to ultimately land at Iwo Jima. Mr. Kirby, a fantastic storyteller who has recounted much of these experiences in his memoir Stories From the Pacific: the Island war 1942 – 1945, uses his oral history interview to personally share those memories as well as the share the stories of those with which he served in so many harrowing battles.
Lawrence F. Kirby was born in Brookline, Massachusetts—a suburb of Boston—in 1924. Although his family was hard-hit by the Great Depression, Mr. Kirby discusses the tight-knit neighborhood that he grew up in, and how, despite the lack of money, the children all had fun things to do when they weren't working or studying, and felt protected by the various families that would keep an eye on them—that real sense of community that doesn't exist as much anymore. Growing up, Mr. Kirby says that he loved studying and learning about language, and reading all the classics—a love that would pay off many years later when he sat and wrote about his time in the Marine Corps during World War II in a book called Stories From the Pacific: The Island War 1942-1945. As that title suggests, Mr. Kirby enlisted in the Marine Corps because, like many his age, he was greatly affected by the Attack on Pearl Harbor—which occurred half way through his senior year in High School—and he knew that by the time he graduated he would be going overseas. He enlisted before the school year even ended although he met with resistance from his father—who had served during  the first World War—and had to convince him to sign the permission form since Mr. Kirby was, at that time, still 17 years old. And like most boys of that age, Mr. Kirby joined the Marine Corps because he knew that he would be sent directly into combat, not knowing then exactly what that meant.   
Mr. Kirby went from Parris Island to Camp Lejeune, learning to use different types of weaponry—including going to sniper school—and the ways of combat. He then went to Camp Pendleton, with a month-long layover in Nebraska, in order to go to radio school and learn the technical components of the military. This is also where he started being trained on how to operate under camouflage and the kinds of things that would lead the Marine Corps to choose Mr. Kirby to be a scout—to do RECON work—training him to sneak out in the morning, to go out to try to locate the enemy's position, and come back and report on it to his supervisors. After this extensive training, which Mr. Kirby outlines in great detail, he was shipped out to Guadalcanal where he was assigned to the 2nd Battalion, 9th Marines, and where he began training for the Bougainville Campaign where he was briefly attached to the Marine Raiders. From Bougainville, Mr. Kirby then moved on to Guam. Mr. Kirby tells of an experience while in Guam that any 17-year old wanting to experience combat—as Mr. Kirby did—should hear and understand. During a RECON mission, Mr. Kirby came directly into contact with a Japanese soldier out doing the same type of mission for his side. Years later, Mr. Kirby would also write a poem entitled "Lament" about that experience, in which the first stanza perfectly sums up the exchange:
I met a youthful enemy
My fear reflected in his eye.
I loathed him not, nor did he me.
But we must fight and one must die.
Mr. Kirby remained on Guam from July '44 until they started being prepared to move out in early spring of '45—the destination, a secret. If you train your men to be smart, however, it's harder to keep a secret from them and so with a little detective work it wasn't hard to figure out that the islands they had been on so far were too far for bombing runs to Japan. They needed a base a little closer. As Mr. Kirby says in his interview, "we were looking for a base halfway between the Marianas and the Empire of Japan. And you look right there, and there's that little island— Iwo Jima— and it's already got an air strip. They're building a second and a third one."  Mr. Kirby's stories about his experiences on Iwo Jima, where taking fifteen or twenty yards a day often defined success, are often hard to hear; yet he matches each grim detail with an equally light-hearted story pointing out some of the absurd things that happen during combat. It is this balance that makes Mr. Kirby a truly remarkable storyteller.
Mr. Kirby's return home from the war was also a mix of emotions. Due to the stress he had endured at Iwo Jima and elsewhere, he was required to go through a psychiatric evaluation that lasted four weeks at a Naval Hospital back stateside. Once that evaluation was finished, he went home—getting there on Christmas of 1945. He went to college at Emerson College, married, began a career. He graduated from Northeastern University with a degree in history and a law degree. Mr. Kirby worked as a marketing analyst, and as an operating vice president for a computer company. In his oral history interview, he also discusses the Vietnam-era military service of two of his sons.