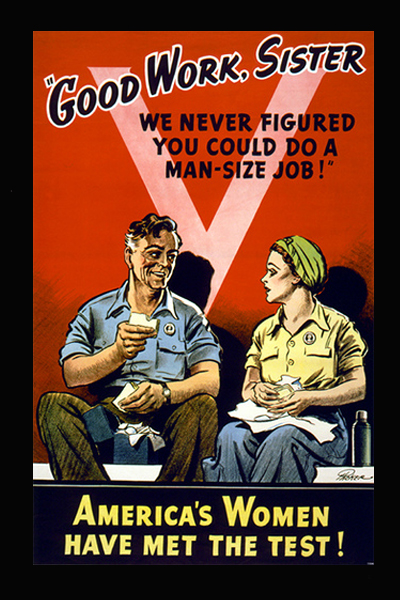 Record date:
Elinor Otto, Riveter (A Home Front Story)
During World War II, Ms. Elinor Otto became a Riveter for the Ryan Aeronautical Company, stepping up, alongside many other women on the  home front, to fill a role held by men now fighting overseas—and, in the process, helped plant the seed for women in the workforce beyond WWII, including launching her own career which lasted until 2014.
Once companies started hiring women to fill the absence of the men serving in the military overseas during World War II, Ms. Otto jumped at the opportunity to fill in at the workplace—along with hundreds of women from all over the country.  At first, most of the men were unhappy about working with women, but they eventually warmed up to the idea.  Ms. Otto mentions in her interview that the women knew they had to prove themselves, and that they were more than up for the challenge. She enjoyed working because she loved the feeling of purpose and accomplishment; she explains there was nothing like the feeling of watching a plane she helped build take off for the first time. 
Ms. Otto spent the last 6 months of the World War II with Ryan Aeronautical Company. After the troops began to filter back and reclaim their jobs, Ms. Otto tried office and carhop jobs for a few years, but she eventually returned to the aircraft industry—her heart's true calling.  Ryan Aeronautical Company hired her back for 14 years, until the company ceased the production of airplanes.  Then, she accepted a job at Douglas Aircraft Company—now known as Boeing—and remained there for 49 years.  In November of 2014, at age 95, she was laid off with everyone else when the plant was shut down—effectively forcing her retirement.
Ms. Otto is one of the last living "Rosie the Riveters," and has won countless awards throughout the years.  She did not feel like her job was important at the time, but she appreciates all the recognition she recieves in her old age.  Although she has dealt with a lot of loss in her life—including the loss of her son—she is an exceptionally strong woman.  In her interview, she explains her hope to inspire people to have some of her same motivation.