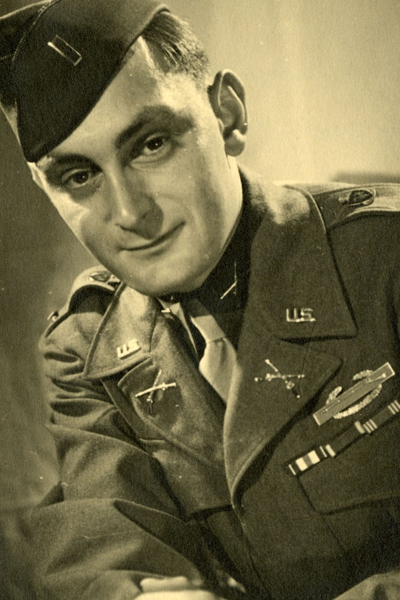 Record date:
Irving Ellis Interview Transcription
Irving Ellis, Major
Irving Ellis fought as an infantryman throughout the European Theater of Operations of World War II and served as a training officer during the Korean Conflict.
Ellis was born in Chicago on March 4, 1924. After enrolling at the Western Illinois State Teacher's College, he joined the Enlisted Reserve Corps' United States Air Force Unassigned program. Much to his surprise, Ellis was transferred to the infantry, and in September 1943, just nine months after enlisting, he was in combat as a replacement soldier in the 45th Infantry Division fighting in Salerno, Italy.
Seeing heavy combat, Ellis served in Salerno, Anzio, Central Italy, Southern France, the Vosges Mountains, Southern Germany, and Austria. He narrowly avoided capture twice, and received the Purple Heart after being wounded by shrapnel from German artillery. His division liberated the concentration camp at Dachau and took Munich in the closing days of the war.
Ellis was also awarded the Silver Star (Vosges Mountains), and received a Field Commission in 1945. 
After the war ended, Ellis earned a degree from DePaul University, got married, and began working as an accountant.
However, at the outbreak of the Korean War in 1950, Ellis was recalled to active duty, where he served as a training officer. After the Korean War, he remained in the reserves until July 1966, leaving with 20 years of service.
Update 6/1/16:
In May, the Pritzker Military Museum & Library learned of Mr. Irving Ellis's passing  on April 10, 2016. Mr. Ellis lived a long life as a devoted husband (married 67 years), father, grandfather, and friend. He cared deeply for his country and for his local community. As one of the early participants in the Museum & Library's Holt Oral History Program, Mr. Ellis detailed the roles he played in WWII, and on into the beginning of the Korean War—and while he provided many wonderful stories and important points, he would be the first to downplay his own actions.  Rest in Peace.