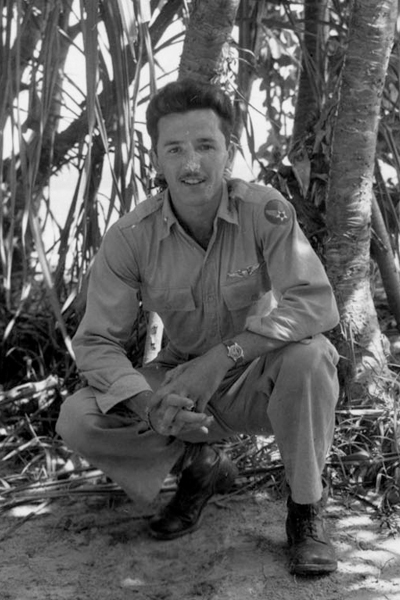 Record date:
Howard Levinson Interview Transcript
Howard Levinson, Captain
Serving in the U.S. Army during World War II, Howard Levinson's love of flight pushed him to succeed in his training and become the pilot of a team whose job it was to fly over and photograph uncharted areas in the South Pacific.
Howard Levinson was born June 22nd, 1923, in Chicago Illinois. His interview begins with descriptions of growing up during the lasting effects of the Great Depression. Mr. Levinson recalls how he attended over six grade schools due to his family's frequent relocations. He says that school was always a struggle for him, as he didn't feel as smart as the other children, and he regularly got bullied for being Jewish, even by the teachers. When the war broke out, Mr. Levinson saw the opportunity to finally become a pilot, something he'd always dreamed of, and went to sign on with a recruiter. While he failed the necessary enlistment exams his first two tries, he managed to get in on the third, and became a cadet.
As he continued through training, Mr. Levinson continued to struggle, but his natural ability and drive to be a pilot carried him through. Still, he did encounter some trouble with the antisemitism from his peers, especially when he was made squadron leader against his will. Levinson's squad mates learned his worth, however, on a training flight that went awry over Texas. Due to a sudden storm, the plane got struck by lightning and lost the use of all of its electronic meters. Mr. Levinson and his crew flew for seventeen hours in the storm and in the dark, looking for a place to land, all while Mr. Levinson's crew tried to convince him to parachute out. Thankfully, Levinson's bravery and instinct allowed them to successfully land without damage to the plane or risk to the crew.
Once Mr. Levinson had finished training, his copilot insisted they work photo-recon instead of flying in the thick of the fighting, something Levinson was resentful of at the time, but thankful for later on. He flew out of both New Guinea and the Philippines, photographing the geography as well as roads and other important locations such as where large numbers of allied soldiers were being buried. He returned to the United States after the dropping of the atom bomb, where he briefly worked as an auto-parts distributor with his father, before returning to the military to train future pilots.
In his retirement, Levinson enjoyed connecting with other pilots as well as other veterans, and was inducted into the aviation hall of fame. At a veteran meet-up later on in life, he received a letter from one of the men who bullied him for being a Jew, apologizing for his and the rest of the crew's behavior. Levinson graciously accepted the apology and says that he has learned not to hate people for past misdeeds.