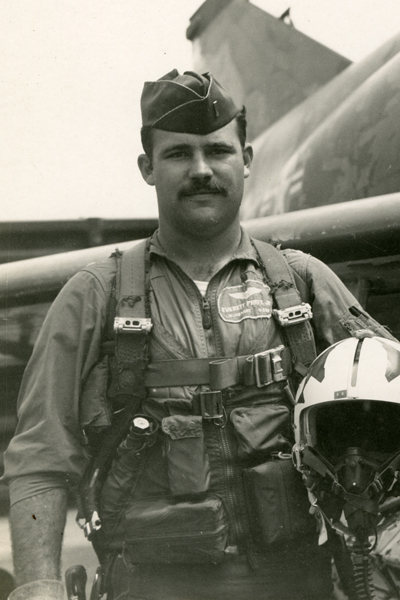 Record date:
Everett H. Pratt Jr., Lt Gen 
Recognized as "Stormy" Fast Forward Air Controller for successfully  directing air support missions against ground targets in Vietnam,  was only the beginning of Lt Gen Pratt's career in the United States Air Force.
Lieutenant General Everett H. Pratt, Jr. was born on November 25, 1943 in Covington, Georgia. He enrolled at Oxford College of Emory University in 1960, joining the Air Force ROTC soon after. Pratt graduated from Emory University in 1964 and was commissioned as a second lieutenant. Trained to fly the F-4 Phantom II, Pratt volunteered to go to Vietnam, serving tours at both Da Nang Air Base, in Vietnam and Takhli Air Force Base in Thailand. He distinguished himself as a "Stormy" Fast FAC [Forward Air Controller], directing close air support missions against ground targets. Pratt was awarded the Silver Star and the Distinguished Flying Cross with three oak leaf clusters for his service in Vietnam.
After Vietnam, Pratt served as an instructor pilot in the F-4 Phantom II at George Air Force Base. Pratt was promoted to major in April of 1976 while serving at MacDill Air Force Base in Florida. He served a three-year stint at Hickam Air Force Base in Hawaii, after which he returned to MacDill, where he became the commander of the 13th Tactical Fighter Training Squadron. In 1982, Pratt attended Air War College, serving a tour in the Pentagon after graduation. Now a colonel, Pratt left the Pentagon as the chief of the War and Mobilization Planning Division in 1985 to serve as the deputy commander for operations of the 432nd Tactical Fighter Wing at Misawa Air Base in Japan, later serving as its vice commander.
Pratt commanded the 8th Tactical Fighter Wing at Kunsan Air Base in South Korea from 1987 to 1988, his first assignment to a combat-ready fighter unit since his time in Vietnam. After his year at Kunsan, Pratt returned to Hickam Air Force Base in Hawaii, where he served as the Inspector General of Pacific Air Forces. He served as the assistant deputy chief of staff for plans, and later, operations, and was promoted to brigadier general in January of 1990. Pratt was the deputy chief of staff for plans and requirements at Air Training Command in Randolph, Texas when he was promoted to major general in August of 1992. He served as the commander of the 19th Air Force at Randolph Air Force Base from 1993 to 1994. In October of 1994, Pratt was promoted to lieutenant general. He left Randolph Air Force Base to serve as the vice commander U.S. Air Forces in Europe (USAFE) at Ramstein Air Base in Germany. Pratt retired in August of 1997. Over the course of his 33-year career in the Air Force, Pratt flew over 4,000 hours, most of them in fighter and trainer aircraft. Pratt consulted for the aviation industry for a number of years after his retirement.  He was the vice president of Northrop Grumman's Defensive Systems Division from 2002 to 2008, and worked as a consultant with them, as well as Boeing and Lockheed, until 2012. Pratt was a passionate advocate for veterans, serving as the president of the board of directors for TLS Veterans, as well as serving on the board of directors of Leave No Veteran Behind.